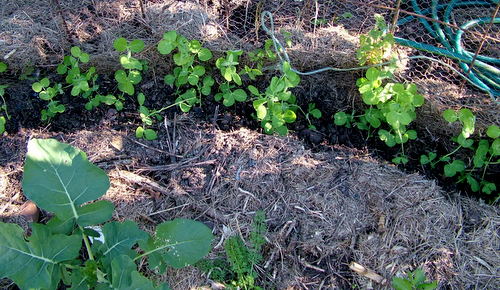 Fruiting planting days through until Monday, and it is such perfect garden weather – such a contrast to last weekend – that you would think the garden gods are conspiring to get me planting peas instead of spinach! It is so calm and sunny that I am tempted to think about putting in some Spring seeds – some tomatoes and capsicum and chilis, some cucumbers and zucchini and squash and melons, some beans and potatoes  and eggplants. I know that is a bit too foolish.  We still have some cold weather to go yet. But I might just go through my seed box and stick some leftovers in a seed tray for fun.  It's on the jobs list for the next week or so anyhow – to go through my seed box and see what I need to order for Spring planting – so I might as well give some old seed a go.
But really, the garden job this week is to plant out the pea and snow pea seedlings and get the last of the pea seeds in.  The ones I plant now will be bearing in October, which is really a bit late for them in this part of the world – it will be warming up so much by then that they will be very susceptible to powdery mildew.  And in any case, I'll be looking for all the climbing space I can get for the beans and cucumbers.  So I won't plant too many of them, just a few to try to eke out the last of the season, and I'll choose resistant varieties and feed them lots of compost and seaweed brew to build up their resistance.
The mice early in the season got so many peas that for once I have enough trellis room left for planting out these late ones.
[relatedPosts]