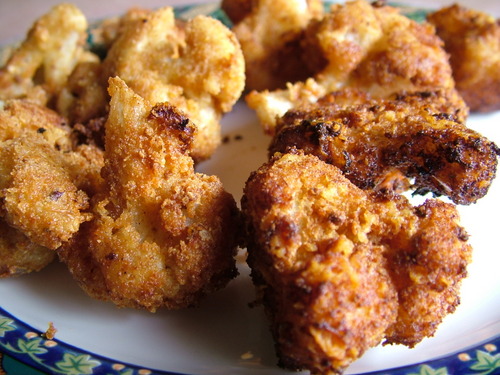 Does it seem odd eating just one vegetable for dinner?  We do it quite often. Variety is the key in nutrition, but it doesn't all have to be in the one meal.  I also love platter meals, where dinner is served on one platter for everyone to help themselves from, rather than individual plates. It's a nice sociable way to eat. This recipe is great for a fast, easy, informal platter meal.
Cauliflowers are just coming into season fully now, so if you are going to have meals based just on caulis, now is the time of year to do it. (At least in the southern hemisphere). Even if they are not home grown or labelled "organic" cauliflower this time of year are much less likely to be carrying a load of insecticides. And if you have kids who are a bit suss on crucifers, this is a conversion recipe.
The Recipe:
Break a cauliflower into little flowerets and put them in a big pot with water, a good pinch of salt, and a lemon cut into quarters (skin and all). Bring to the boil and cook for 5 minutes or less, till the cauli is tender but not soft.
While the cauli is cooking, make up an assembly line for crumbing.
The first bowl has the wet mix. You have a couple of choices:  You can use just eggs and milk (2 eggs beaten with ½ cup of milk), or, if you have sourdough, it works really well with ½ cup of  sourdough starter with an egg and a little milk beaten into it.  Whichever you use, add a little salt and a grinding of pepper.
The second bowl has the dry mix: half and half breadcrumbs and finely grated parmesan cheese.  You need about half a cup of each for a medium sized cauli, but exact quantities will depend on the size of your cauli and the size you cut it up.  Good breadcrumbs make the dish. I make my own – whenever I have the end of a loaf of heavy, wholegrain bread left over when the new one comes out of the oven, I put it in a very slow oven as it cools down.  I blend the dried, lightly browned bread in the food processor and store in a glass jar. It will last like that practically forever.
Put a heavy frypan on to heat up to medium hot (not smoking hot) with about 1½cm of olive oil.
Drain the cauliflower and cool under cold running water for a minute.
Dip the flowerets into the egg mix, then into the breadcrumb mix, then shallow fry for just a couple of minutes, turning with tongs, until brown and crunchy. Drain on paper as they come out.
Serve on a platter to share, with a dipping sauce.  Although it's totally not traditional, my favourite is a mix of homemade mayonnaise, chili jam and soy sauce.
(Tuesday Night Vego Challenge recipes are fast, easy, healthy, in season, from scratch.  I am trying to post one a week every week this year,  and collecting your links and ideas in the comments.)
[relatedPosts]