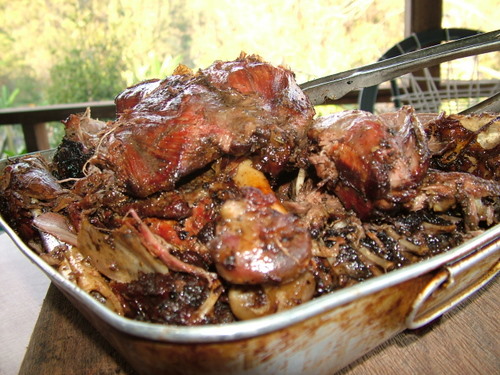 If you are a vegetarian, probably better if you click away now.  But if you eat meat, I'd be interested to hear what you think.
We hit a wallaby on the way home a little while ago.  It was just on dusk, right when the wallabies become most active, and it just jumped out right under the van.
We stopped.  We always stop. I can't bear the thought of an animal dying slowly and painfully injured on the road.   But this was a clean hit on the head at speed on the main road.  A fully grown but fairly young male red neck – the most common species in my area – in good condition.
I think if you eat meat, you have to accept that an animal dies.  This wallaby had a good free range life, and everything  becomes food for something, one way or another. Throwing it off the road didn't seem like valuing the life. So we took it home and my partner skinned and butchered it into roasting pieces while I made a marinade.
Wallaby is very very lean meat with muscles that have done some work.  In some ways the meat is like wild goat meat, and so the kind of methods used in the Mediterranean countries to cook goat work well – curries, tagines, khoresh, and long slow roasts. It was the Greek slow cooked goat shoulder last week that prompted this post in fact.
For the wallaby, I decided on a Greek-style marinated slow roast, and invited 15 people for dinner the next night.
The Recipe:
Cut the wallaby into large roasting pieces and put them in a plastic container with a lid.  For a large wallaby, or a kangaroo, an esky makes a good container.
For this wallaby I made three cups of marinade.  Adjust to size.
Blend together:
2 cups olive oil
1 cup lemon juice
1 cup of fresh oregano, thyme, lemon thyme and rosemary (go easy on the rosemary and heavy on the oregano).
lots of garlic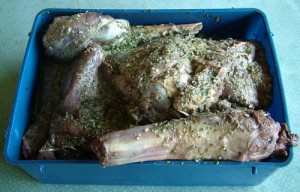 Pour the marinade over, toss to coat every piece, and leave in the fridge or on ice for 24 hours.
Roasting:
To get to falling off the bone tender, it should roast for about 4 hours in a low oven, being basted every hour in the beginning and half hour at the end.
Spread the meat out in baking trays in a single layer.  I fitted it in two large baking trays.  Divide the marinade up and pour over.  Add a cup of water to each baking tray. Cover with a lid.
Cook in a medium-low oven for about 4 hours.  After an hour, using tongs turn the meat.  Repeat after another hour, then every half hour. Don't let it dry out.
Depending on how tightly lidded your baking trays are, you may have to add more water, or, at the end, remove the meat and turn the oven up high to reduce the last of the liquid.  You should end up with falling off the bone meat in a very small amount of concentrated jus.
This wallaby served 15 people for dinner.  It was tender and lemony and not at all gamey.  The opposite end of the spectrum to the polystyrene trays that meat comes in at the supermarket, but it felt very honourable.