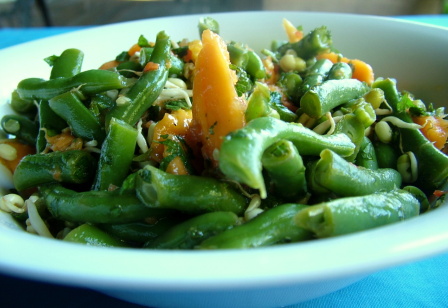 The nice thing about bean gluts is that you can just let them fully mature and dry on the vine, then store them for using in dried bean recipes, like refried beans or nachos or baked beans or ful medames. But I don't quite want to let these beans go yet! Once you stop picking them, they stop flowering and setting more beans. And I have another few weeks before the next planting starts bearing. So we're eating lots of green beans!
This is one of my all-time favourite ways to eat them, and it has the advantage of using our other current glut – mangoes. We had it for dinner last night, and it was so good I had to immediately make it again for dinner tonight!
Make the dressing first then let it sit for just a few minutes while you assemble the rest. Mix equal amounts of lemon juice and olive oil (2 tablespoons or so of each) with a finely chopped chili, a clove of garlic crushed, a half a little finger sized piece of fresh ginger minced, 2 teaspoons of sugar, and a tablespoon of fish sauce. I often make lime or lemon cordial in winter when they are prolific, just to have on hand for recipes like this, and use a tablespoon or so (depending how strong it is) instead of the juice and sugar.
Slice and blanch 250 gm green beans and drain well. Mix with a sliced mango (or two small mangoes), a handful of mung bean sprouts, and a good amount (2 tablespoons or so) of chopped fresh mint. Toss through the dressing and serve.
[relatedPosts]