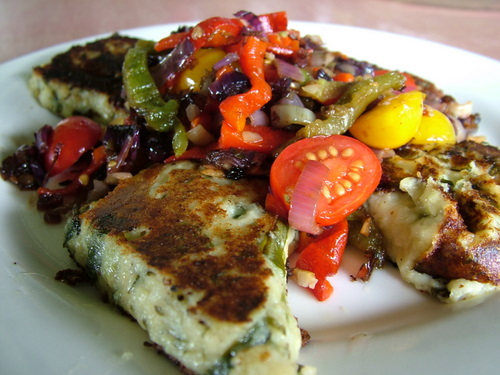 Capsicums are the feature crop out of my garden this week, and they are so much in season that even if you aren't growing them, you should be able to get beautiful local ones at Farmers Markets.  I steer clear of the standard California Wonder – the variety you find in supermarkets. It's lower yielding, shorter lived, more vulnerable to fruit fly, and less heat and drought tolerant than I need. My favourite varieties at the moment are Corno de Toro, Hungarian Yellow wax, and one I call Supermarket Flats because the seed came from some capsicums I bought in the supermarket, just because they were unusual and I hoped they might be non-hybrid. I think they are actually Baby Reds, and they are doing brilliantly for me.
So roast capsicums are the star in the  Tuesday Night Vego Challenge this week. Polenta goes really well with them, and of course, this time of year, I put zucchini in everything.
The Recipe
Makes two dinner serves, but can easily be doubled.
The Polenta
Lightly sauté
one finely diced spring onion (greens and whites)
 with 2 cloves of garlic finely diced.
Add
½ cup of grated zucchini
¼ cup finely chopped basil
½ cup fine polenta
2 cups water 
Cook, stirring, for about 10 minutes till it goes very thick, like thick porridge. Then add 70 gm low fat feta, grated, and continue cooking, stirring, for just a minute or two to melt the feta through. (You can leave out the feta if you are avoiding dairy, and it will still work, but it does make it lovely and creamy). Taste and add salt to taste.  (It doesn't need much – the feta is salty).
Turn the mixture out into an oiled small pie plate or tray. You want it to be  about 2 cm deep.  Use the back of a wet spoon to smooth the top. Put the pie plate in the coldest part of your fridge, or in the freezer, for about 10 minutes to set.
Roast Capsicum and Tomato
To do this in half an hour, you need to multitask and put the capsicum on to char while the polenta is cooking. You can skip this stage, but it is really worth doing.
Char the skin of some capsicums over a gas flame, or under a grill, or over a barbeque. I like a mixture of red and yellow, and how many depends on how big they are. Use tongs to turn until the skin is blackened and blistering all over. Quickly put the hot capsicums in a plastic bag or tupperware container or a small pot with a lid – something that will hold in the steam. Leave them to steam and cool until you can handle them. You should then be able to easily rub off the skin. Don't worry if there are little bits of charred skin left – it adds to the flavour. Slice the capsicum open, discard the seeds, and slice the flesh into strips.
In a frypan, saute in olive oil one large or two small red onions, sliced,  and two or three cloves of finely chopped garlic. Add the capsicum and just a teaspoon of balsamic vinegar.
Add  a good handful of halved cherry tomatoes and heat them through. You don't want the cherry tomatoes to cook down, just heat up.
Frying the Polenta and Assembling
The polenta should be set. Turn it out onto a board and slice into slabs.  Heat a heavy frypan with a little olive oil up to very hot. Don't put the polenta in until it is hot, or it will stick.
Fry the polenta till it is golden, turning once. Try not to keep turning it – you will get a better crust by turning just once.
Serve with the roast capsicum on top.
Are you doing the Tuesday Night Vego Challenge, or cooking easy, healthy, in season, weeknight vego recipes regularly? Links are welcome in the Comments.
[relatedPosts]