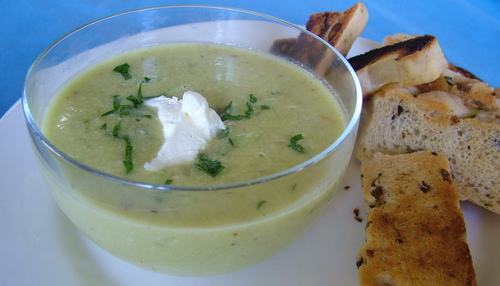 I've always been a bit ambivalent about gazpacho, until I realised it was the look of it, not the taste, that was uninspiring. The problem with gazpacho is always the colour. If you use red tomatoes and capsicums, but then mix them with green cucumbers and capsicums, you end up with a kind of khaki that doesn't look very appetising.  And the look is a huge part of the appeal of food. Gazpacho recipes go to all kinds of lengths to adjust the colour, including adding tomato paste (which skews the flavours too far to the acid) or even adding food colouring!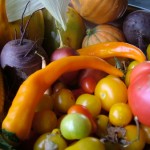 But its the season of red and gold, and in particular, gold.  If you mix gold and green, you get a very nice shade of light green that looks cool and calm and to me very inviting on a hot night. My yellow cherry tomatoes and yellow Corno de Toro peppers, mixed with green cucumbers, make gazpacho that is gorgeous to eat and to look at!
This is a very fast, very simple gazpacho that is so good you understand how it got to be such a classic dish.
The Recipe:
Makes two adult serves.
In a food processor or blender, blend together:
500 grams of yellow tomatoes
300 grams of cucumber
2 yellow banana peppers. My Corno de Toro have just a nice little bit of chili heat.
a swig of good tasting olive oil
a swig of white wine vinegar
a swig of cold water
salt and lots of fresh ground black pepper
A swig is about 50 ml, more or less.
Pour the mix into a strainer over a bowl.
Put a bit of the liquid back in the blender with a thick slice of white bread and blend until smooth.
Stir and press the straining mix to get all the juice out and mix the blended bread through.  Taste and adjust the seasoning.
While the mix is straining, make some croutons or toast to go in it.
Serve in bowls with a bit of finely chopped parsley, some diced cucumber, and dollop of yoghurt if you like, and croutons or toast to add.
[relatedPosts]