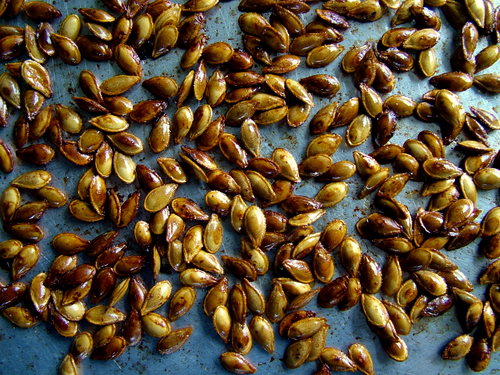 It is Halloween in Australia, and peak of the pumpkin season.  Roasted pumpkin seeds are a hugely healthy and totally addictive snack.  And they are so easy.
Halloween, or Samhain, marks the midpoint between autumn equinox and the mid-winter solstice. It is the last of the three traditional harvest seasons, marking the real last this-is-it end of summer – and it feels like it.  The weather has turned here. As far as day length goes, it is now officially winter – the season of the shortest days, and though, because the earth has lots of thermal mass the temperature drop lags by a few weeks, it really feels like winter today.
We celebrate with a progressive dinner, and this year due to my current obsession with sourdough, I'm starting off the feast with breads and dips.  On my kitchen bench I currently have rising a loaf of rye and caraway, one of olive and thyme, one of semi-sundried tomato, garlic and basil pesto, and one of pumpkin and sunflower seeds.  Here's hoping they turn out!
But meanwhile, I've roasted the pumpkin seeds to snack on.
The Recipe:
Scoop the seeds out of the pumkin and into a bowl.  Fill the bowl with cold water and roughly wash the seeds.  Much of the pulp will float and can be scooped out.
Tip into a colander and wash a bit more.  Much of the rest of the pulp will wash through. Then it is very easy to pick out the last bits of pulp. Don't worry if you miss some – it adds to the flavour.
Let the seeds dry in the colander for a little while.  They don't have to be quite dry, just not sopping.  Tip them into a bowl with a teaspoon of olive oil, a teaspoon of soy sauce and a half a teaspoon of honey.
Stir this to coat the seeds, then tip them onto a baking tray and spread them so they are a single layer.
Bake in a moderate oven for around 30 minutes, stirring occasionally, until they are well browned.  (I like them a bit darker than golden).  Watch them at the end as they turn quickly.
Try to at least let them cool before eating them all!