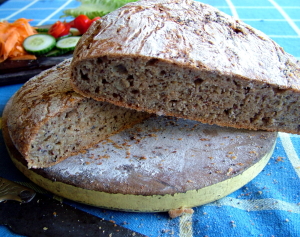 I tried the New York Times no-knead bread recipe this weekend, and it turned out so well that I'm converted. I will never knead bread again!  (Not that I ever did a lot). Of course I had to muck around with the recipe a bit to make it heavy enough for my tastes. Here's my version.
There is only about 15 minutes work all up in this recipe, but a bit of planning. You will have the oven on for an hour and a half, so it is good to plan for a time when you will be using it for other things too – some baking or a roast dinner for example. So, if you plan to bake Sunday afternoon, for example, start the first process Saturday morning.
You need three cups of flour. One of them probably should be plain wholemeal flour so the mix has enough gluten for the bread-genie to work. One of them can be any other kind of flour – I used rye flour. The other one can be not really flour, but a mix of seeds, grains, rolled oats, bran, wheat germ, bulgar, kibbled wheat etc, which gives the bread the delicious depth of flavours and texture. But you don't want tooth-breaking texture. I soaked a tablespoon full of whole grains and some bulgar in water for a few hours to soften, and whizzed some rolled oats, linseeds, and wheat germ in the food processor to make up the third cup. So the soaking is the first process.
Now go play in the garden or do the washing or take the kids to sports for a few hours.
Back? Ok. Mix your three cups of flours etc with a scant teaspoon of dried yeast and a good teaspoon of salt. Add one and 5/8 cups of warm water (baby's bath warm) and mix to a sticky dough. Cover the bowl, put it in a warm place, and leave till Sunday morning. "Warm" means uncomfortably warm but not burning for humans. I put my bowl on a breadboard on the roof of the car in the sun, covered with a clean towel for the day, and brought it inside overnight.
The next bit is tricky but have faith. Flour the worksurface well and tip the dough out on it. Sprinkle flour on top, dust your hands, and, working quickly and lightly, fold it over itself two or three times. You'll find that although it is sticky, it actually likes sticking to itself better than to everything else and can be made into a soft ball. Cover, leave for 15 minutes, and do it again. Dust a clean tea towel or pudding cloth generously with flour or bran, put the dough on the cloth, dust with more flour or bran, cover, and leave in the warm spot again for another few hours.
To bake the bread, you need a heavy pot with a lid (cast iron, enamel, ceramic), big enough to take the dough and leave a little bit of room for rising. It needs to go into a moderately hot oven in a hot pot. So preheat the oven with the baking pot in it for at least half an hour. Tip the dough into the hot pot – it should come off the cloth fairly easily. It will smooth itself out as it bakes. Cover with the lid and bake for half an hour, then remove the lid and bake for another 15 to 30 minutes till the loaf is brown and sounds hollow when knocked. Cool on a rack. Be prepared for it to disappear.