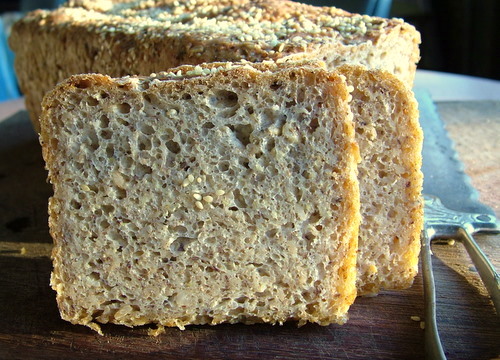 I'm loving my everyday sourdough these days. I make a small loaf every second day (since there's only two of us to eat it on everyday days). It's getting heavier and heavier as I get the knack!  I've got into a rhythm  that is near enough to effortless –  certainly well worth the effort – about 15 minutes all up of actual work spread over 24 hours.  And that yields me the kind of bread that is tempting enough to inspire me to take lunch to work, and healthy enough to eat as much as I like (and I like).
The system is still the same as my Everyday Sourdough.  These days though, the 6.30 am cooked porridge mix is
a handful of whole oats (oat groats), cooked for 5 minutes or so, then add
a handful of hulled millet and keep cooking for another 5 minutes or so, then add
a handful of quinoa and cook for a few minutes more to absorb all the water.
The 7.00 am dough mix has
a cup of sourdough starter fed with unbleached bakers' flour
rye flour
oat bran
linseed meal
the porridge mix (above)
a teaspoon of salt
and enough organic stoneground wholemeal flour (15%protein) to make a kneadable dough
Then the top is sprinkled liberally with sesame seeds and poppy seeds.
It's a real wholegrain feast with attitude, and enough B vitamins to give me a whole day's supply in a couple of slices. I haven't worked out the exact cost per loaf, but even with all these goodies, it's not much more than $1 a loaf – a fraction of the price of quality bread in the supermarket.
Though I'm experimenting with quinoa and oats and linseeds and sesame seeds, at the moment none of the ingredients are coming from the garden, but all are from sustainable farming done within a few hundred kilometres. Over winter I've been baking in the wood stove, which we have going for heating and hot water anyhow, so there's no fuel use at all. Over summer I'll use the gas oven, but if I can coincide with when I have it on for dinner or baking anyhow the fuel cost will add very little.
I'm loving it on so many levels, but hot from the oven spread with honey is up there!
[relatedPosts]