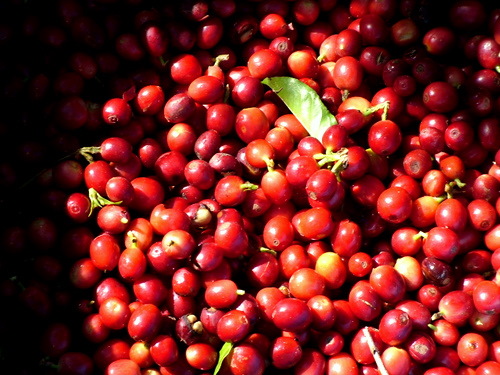 We've just harvested the first of the coffee beans for the season, and now begins the slightly laborious process of processing them.
We have eight Coffea canephora (Robusta) coffee bushes.  They are small trees or large bushes, that we keep pruned to about 2 metres tall.   From them, we get about a third of our coffee supply.  We could plant more, but we would have to be sure we would get around to harvesting, as it has the potential to become an environmental weed if the beans are let wild.
Robusta is generally considered inferior to Arabica – more full bodied and higher caffeine, but more bitter and harsher.  But in an expresso maker like this, robusta is a very drinkable coffee, or at least ours is! And it has the advantage of being much hardier and less prone to pests and diseases.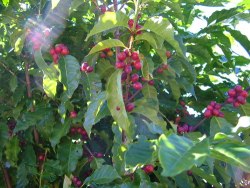 Coffee grows really easily in this Northern NSW climate – this region grows some of the world's best.  Although commercial producers like full sun (and lots of fertilizer) it is naturally an understory plant and will produce fine in light shade.  It doesn't cope at all with frost.
But getting it from bean to cup takes a few stages – worth it considering the price of coffee and the satisfaction in offering visitors a cup of home-grown.  But you can see why coffee is expensive!
First step is to pick the beans.  We get several picks, from August until October, usually a large bucket full each time.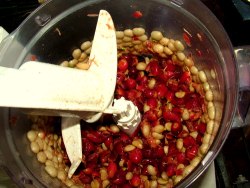 Next the beans have to be popped out of their cherries.  This can be done by hand (and during football season my partner is usually more than willing to do it).  But he has discovered that the plastic blade on the food processor does a good job without the requirement for him to watch football on TV.
The beans inside are coated with a slippery gel, and the next stage is to ferment it off.  The easiest way is just to soak the beans for a couple of days, feeling them every so often until the  slippery coating rubs off with a bit of agitating.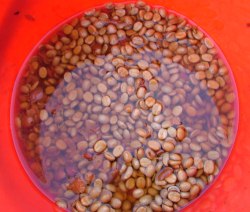 They are then rinsed with several changes of water.
Next the beans have to be thoroughly dried.  We spread them out on an old screen door on the verandah to dry – we have been caught out too often by an afternoon shower to leave them out in the sun!  They take a few weeks, depending on the weather, to get down to 10% moisture content.  They are ready when you cannot bite into a bean and create teethmarks.
That's where we are up to now.  After the beans are dried, they still need the parchment layer removed, also easiest done, we've discovered, in the food processor with the plastic blade.  Then the green beans need to be roasted, ground, brewed, and finally, you get a wonderful cuppa out of it.
I shall keep you updated as the process continues!