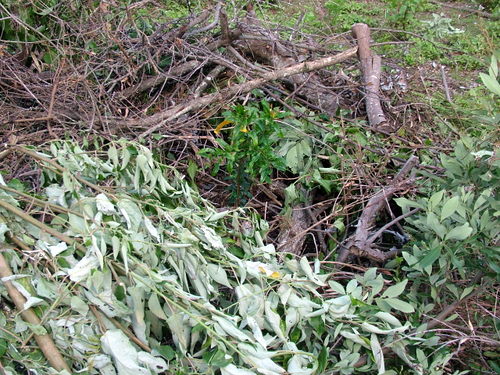 A trip to Daley's fruit tree nursery is always dangerous.  The mission was one tangelo tree.  Ha, sure.
So we have spent today planting fruit trees, a little late for the perennial planting days this month but there you go.  And this time of year is a good time for tree planting in our part of the world – the end of the wet season, with a couple of months for them to establish before winter, and a good six months to spread out roots before they encounter our hot dry windy spring.
For years and years, this was how we planted trees, bagged to protect from wallabies and mulched with grass clippings to protect the soil.  It never was highly successful.  The wallabies reach in over the top and push bags down, stakes get wobbly, bags rip, turkeys scratch away the mulch.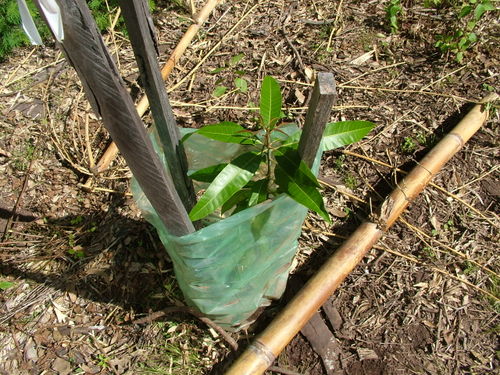 Lewie invented the new way.  One of the advantages of bush regeneration is that wild birds plant native pioneers through the orchard –  Bleeding Hearts and Macarangas and  Native Mulberry.  Plus there are nitrogen fixing pioneers we have planted – leucaena and pigeon pea and wattles, and trees that need pruning – a seedling peach tree, a carob tree, the bay tree, and giant bamboo that is the windbreak.  Between all these, there is plenty of material available for "rough mulch"  – chainsaw pruned branches piled roughly, quite high and wide, around the newly planted tree.
It has some of the advantages of hugelkultur – long lasting slow release fertiliser, moisture retention in spongy wood, soil shading, a great environment for soil building creatures.  It also protects the trees from wallaby damage for a long time, usually long enough for them to get up above wallaby height with one refresh.  The cut branches drop their leaves into a tangle of twigs and the turkeys can't scratch it away.
Each tree gets a couple of buckets of diluted seaweed brew at planting and they'll get watered again in about a week if there is no rain.  Pomegranate, tangelo, orange, macadamia, lime, burdekin plum, feijoa.  A good day.