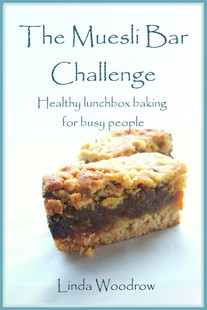 The recipes are all here on Witches Kitchen, but the e-book makes them easier to access offline, and to search for ingredients, and to print. The quantities are in both US and Australian measurements, and the Pdf version is formatted to be easy to print.
The Muesli Bar Challenge was my first year of blogging. It started with a rant about muesli bars marketed as suitable for kids' lunchboxes. Muesli bars are so aggressively marketed, but in reality they are overpackaged, overprocessed, overpriced, full of corn syrup and transfats, made from cheap and nasty ingredients with a long shelf life.  They are iconic for what is wrong with our whole food culture.
And yet, when you are frantically trying to put together a marginally healthy lunch that will actually get eaten, you can be forgiven for whacking a muesli bar in there.
The Muesli Bar Challenge was my bet that I could bake easy, fast, lunchbox treats that were healthy, real food and acceptable to kids. It was a year-long series of recipes, one in every week of school term, reviewed by a team of school age reviewers ranging from kindergarten to high school. Their brief was to take my challenger to school each week and rate it for how it tasted, how well it satisfied hungriness, and how it rated in trade value with their friends.
The rules were that the Challenger must be healthy enough for everyday food, that is, no corn syrup or transfats, not too much sugar or fat, mostly wholegrains, and based on fresh in-season ingredients. It also had to be quick and easy enough to make that it is actually a realistic option for busy parents (or kids themselves).
The Challenger won every single week of the Muesli Bar Challenge. These are the recipes that went to school in a lunch box, never came home in the lunch box, and were rated by the reviewers as preferable to a muesli bar in every way.
Thanks go to the young reviewers who helped make it – Oak, Ned, Busta, Clancy, Chloe, Jayden, Ebony, Rosie, Ollie. And to Gavin at Greening of Gavin for his tips and encouragement on e-book publishing.
I'd love your feedback and reviews, about this one and also about what you would like to see in the next one (now that I've figured out how to do it)
It's available at Smashwords for $3US. (Click the link below)

 And at Amazon Kindle:
For Amazon.com
http://www.amazon.com/dp/B00HQXMXFO
For Amazon.co.uk
http://www.amazon.co.uk/dp/B00HQXMXFO
For Amazon.ca
http://www.amazon.ca/dp/B00HQXMXFO
For Amazon.com.au
http://www.amazon.com.au/dp/B00HQXMXFO
And it should very soon be available in iTunes stores, and pretty well anywhere else e-books are sold.