This is last year's "In Season" post for February. It is interesting how different the years are.  This year I will have pomegranates in February, but the wetter year has slowed them down, both in timing and quantity.  Mangoes are bi-ennial and this is their "off" year.  Not a one this year.  And it has been too wet up here for grapes too.
Tamarillos are the crop really booming this year.  We have been picking the first of the figs and the trees are laden.  The passionfruit are a bit later too, but there will be lots of them, and carambolas.  I am glad we have bananas growing, because Yasi will create huge shortages of them.
The vegetable garden is producing pretty much the same mix, no parsley or rocket, and it will be the end of the month before there are any new carrots.  But the yellow squash are filling my picking basket.
In Season in February 2010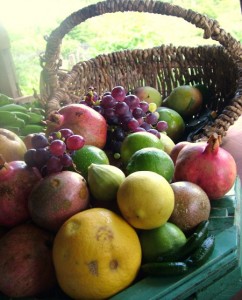 Right now I am picking pomegranates by the bucketful, and really enjoying using them. It is often too dry here in Northern NSW, but this year the season has been perfect for them. We have just stripped buckets of mangoes off the trees but that is the last of them, and the last few bunches of grapes.
The tamarillos are all ripening, and the first of a good crop of figs. We have lots of passionfruit if we can get to them before the possums, and we would have lots of bananas if I could ever get to them before the turkeys, parrots, possums, and flying foxes. Our neighbours tree is dripping with carambolas, but ours had too hard a year last year and hasn't yet recovered. It is the right season for lychees, but they too had a hard year last year.
Thekiwi fruit are not far off – I have been squeezing them every day. Our Valencia orange tree is still young but bearing well for its age, and we are picking the first of the limes and the finger limes, but the rest of the citrus fruit are still a way off yet.
Our local Farmers' Market has plenty of rockmelons and watermelons. It also has the first of the new season Royal Gala applescoming down from the tablelands (within our 160 km range as the crow flies!) From now on there should be apples that haven't spent months in cold storage, and new season pears will be coming in very soon. Yum. People further south will still be getting stonefruit, but this far north I don't bother with them.
I'm picking more beans and snake beans than we can eat as green beans, and drying some for storing as seed for baked beans and chili beans and soups. There's plenty of chilis for fresh eating but not enough yet to start thinking about making chili sauce (I want the lemons to be ready for it anyway). The ginger and turmeric have been liking the heat and rain.  There are still lots of eggplants, tomatoes, capsicums, sweet corn, cucumbers, zucchini, squash, shallots, carrots and parsnips, and the greens are still scarce. I have lots of rocket and parsley to base salads on, but lettuce and silver beet have been doing very well to cope at all with the 40 degree days, although now in this cooler and wetter weather, they will start to come on.  New season potatoesare here, and though spuds are available all year, like apples, it is only the new season ones that are worth eating!
[relatedPosts]