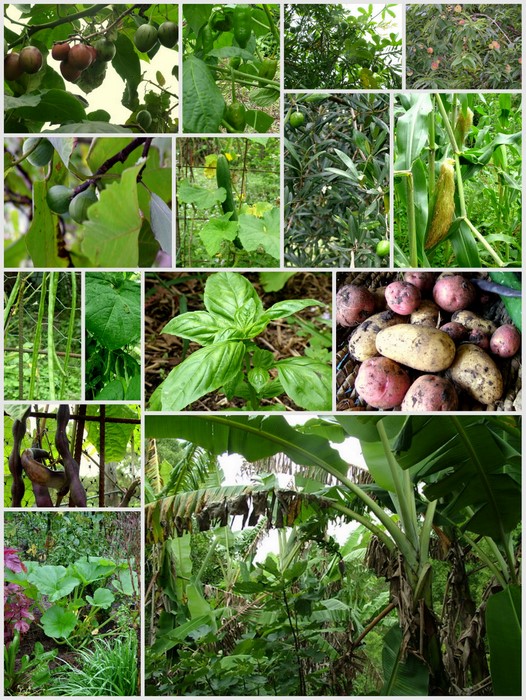 Last year at this time I was picking bucketfuls of mangoes.  This year not a one.  Mangoes tend to bear biennially at the best of times, and on top of that, this La Nina year had a very unusually wet spring that knocked around the flowers.
This time last year I was just beginning  to pick grapes as well, and this year there is not a one of them either.  Wet summers often split the grapes before they open, but this year's wet spring prevented them even setting.  Ah well.  In gardening you win some, you lose some.  The permaculture principle of using diversity to create resilience is really showing its value this year!
The bananas are loving the rain, so much that even the turkeys can't get all of them.  The wet weather has slowed down the fruit fly so much that we are picking peaches from self-sown seedling trees. The figs are more prolific than I have seen them for years, and tamarillos are loving the hot wet weather.   The rain has been perfect for watermelons and rockmelons.  The Eureka lemons bear much less than other varieties but their progressive flowering has meant some flowers have struck a break in the rain long enough to get themselves pollinated.
In the garden, the warm wet weather has brought on the cabbage moths and mildew, so that's the end of all the crucifers – kale, broccoli, cabbages – but the curcubits love it.  Every visitor goes away laden with cucumbers, and the zucchini and squash grow before your eyes.  All the leafy greens have keeled over, even the rocket, so I am basing salads on cucumbers and beans – snake beans, french beans and purple beans all prolific.  Capsicums and chilis also like La Nina and the sweet corn seems to have found enough dry weather to pollinate.
I managed to get most of the potatoes in very well drained spots in the garden, and picked them early to beat the waterlogging – not as large a crop as some years but enough.  The eggplants and tomatoes are having a tough time of it this year though.  I'm getting enough cherry tomatoes for eating but I won't be bottling this year.
Not many of the carrots and none of the parsnips survived the deluge, but the ginger and turmeric are exceedingly happy.  Spring onions are surviving and leeks are loving it.
Seasonal eating makes for interesting challenges in unusual years like this.  It will likely be a good year for recipe inventions!
[relatedPosts]