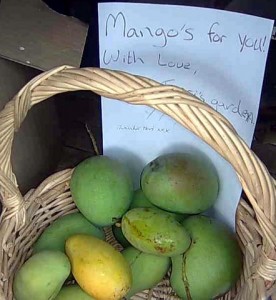 Here in Northern NSW, right now (after the summer solstice) I am picking mangoes by the bucketful.  The trees are laden this year, and though the flying foxes, possums, and birds will get many, there will still be too many for us to get through just eating them fresh. The grapes are also prolific this year. Some years, if it rains too early, they split but this year it has stayed dry long enough for them to ripen.
The bush turkeys get pretty well all our bananas but they are getting very fat on them at the moment. The local farmers' market is just starting to get watermelons and rockmelons.  If my blueberries hadn't died in the drought I would be getting heaps of them too.
Stone fruit are in season, but I hardly bother with them this far north.  Organic stone fruit are hard work to produce and this far north most will have been heavily sprayed against fruit fly, but if you live further south you may be able to get organic stone fruit – lucky you!
The strawberries are finished fruiting, and the only citrus on are lemons.
With vegetables – zucchinis (and all their relatives) are the glut at this time of year.  I am picking eggplants and capsicums and chilis, snake beans and cucumbers, cherry tomatoes and basil.  Sweet corn is in season too and the first of the season's potatoes would be ready for bandicooting if I'd planted them.
I have shallots growing, and I've just harvested all the garlic and the last of the onions.  The ginger and turmeric have both come on in the heat and rain. I'm still digging parsnips and though carrots are hard to plant this time of year, there would be plenty to harvest if, like the potatoes, I hadn't gone away in early September!
The leafy greens are a bit hard to find – there's plenty of rocket and parsley and radicchio surviving in the heat, though the lettuces made hard going of the frizzling days just before Christmas.  Grasshoppers and heat have got nearly all the silver beet, and the bok choy and all their relatives just bolt to seed this time of year.  The broccoli is finished, and any you find in the shops is likely to have been heavily sprayed against cabbage moths by now.
So this is the harvest around which I base my cooking this time of year.  I'd love to hear what's harvesting in other places.
[relatedPosts]