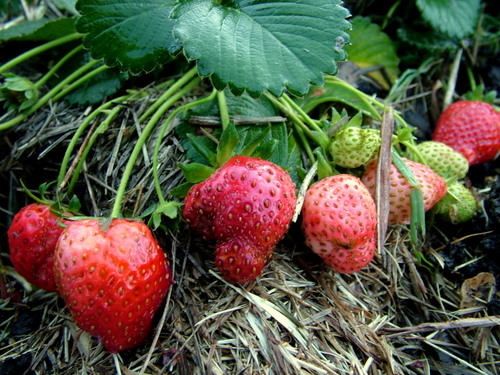 Aren't they gorgeous?  These are the strawberries in the new patch.  It really does make a huge difference to the yield to replant strawberry runners in a new patch, with fresh compost and lots of mulch.  These are the plants I potted up in midsummer, in their the first year of bearing in a new, sheet composted bed.
It's so good to have strawberries, after months of citrus and custard apples.  I do love the winter fruit but the change of season is so exciting.  We have the last of the citrus but the first of the berries (strawberries and mulberries here, and blueberries very soon) and the very first of the season's papaya.
The season hasn't quite changed yet for vegetables though.  I'm still picking lots of  broccoli, snow peas, peas, silver beet, spinach, kale, celery, broad beans and cabbages of various kinds.  We're eating cauliflowers and finally the brussels sprouts. There's plenty of lettuces of several kinds,  lots of rocket, and as much of the leafy annual herbs – parsley, coriander, dill as we like, all strarting to go to seed though, so soon I'll be harvesting coriander, dill and celery seed for the spice rack.  I'm also harvesting mustard seed for making seeded mustard, and for adding to pickles and curries.  Carrots and leeks and spring onions andbeets are all still in season.
The only vegetable that is really new is asparagus, and it isn't around for very long so I make the most of it.
So that's the produce I'm basing my cooking around at the moment.