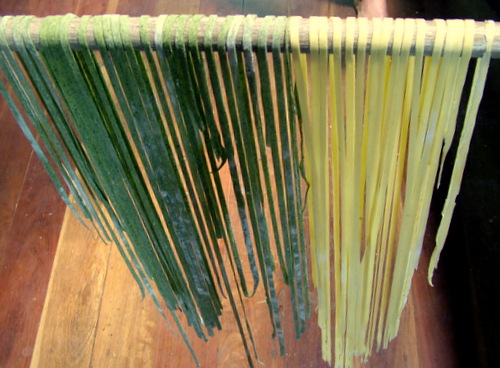 Yes, yes, a hundred times yes from me.
It's good, good and good.
♥  You get to use real eggs, which makes pasta not just empty calories but a decent protein and nutrient source.  If you use wholemeal flour and vegetables in it as well, it can be super food. Who ever thought spag bog could end up a superfood?
♥  You get to use ethically produced eggs and locally produced and/or organic flour and avoid packaging and food miles and the energy costs of processing and storage. And with some flour and an egg or two in the house, a near empty pantry and a teeny herb garden, you can make something so enticing that takeaways or a quick trip to the supermarket lose their lure.
♥  You get to eat something delicious even if it's just cooking for one after a hard day when boiling water is about the extent of the energy left in the pot. Or if it's five unexpected teenagers staying for dinner.  Or if it's a dinner party with a friend's new partner who just happens to be a five star chef.
Nearly four years ago I found a pasta machine at a garage sale.  I had been making pasta from scratch before that but rolling it out with a rolling pin, which meant that lasagna and ravioli were much more likely than spaghetti or tagliatelle.   I wrote at the time that "I'm not sure at all whether it will be a stayer." But it has.  It has joined my (short) list of loved kitchen stuff, along with my pressure cooker, food processor, maca cracker (and a tortilla press has joined since then too, but that's another story).
Mine has no brand name on it and a dodgy handle that looks like it isn't original.  This post was inspired by a comment from Katie on the last post asking if I know how to choose one.  I'd love your thoughts.  Do you have one you love? Or know what to look out for to avoid?
There are hundreds of pasta recipes on the internet, and I really use just one varied in a few ways – just whole egg, plain flour (preferably high gluten but any will do), a little olive oil, a pinch of salt, knead to make a soft dough, rest if possible (but it works anyway), fold and roll several times to laminate if possible (but it works anyway), roll out thin, cook in boiling water for just a couple of minutes.
I have just a few tricks perhaps worth sharing:
Fast, simple pasta is still way better than bought dried pasta, and it can be made in literally 5 minutes.  Skip the resting, laminating, drying, fancy shapes – just blend, knead, roll, cook.  It isn't going to impress the chef, but it works fine.
A bit of extra effort and you can impress the chef: an egg yolk or two along with the whole egg and it's a bit richer, rest the dough for an hour or so before rolling it out and it's a bit more elastic, laminate it by folding it and taking it through the pasta machine a couple of times on each setting and it's more al dente.  The kids won't notice but the Masterchef judges might.
Flour the bench, the machine, your hands, the pasta dough. Toss the rolled and cut pasta in flour and if you are cooking pretty well straight away you don't need hang it up to dry.
Get the water really boiling before you put the pasta in, and have the sauce ready too. It cooks in two or three minutes.
Fresh, home-made pasta is wonderful just tossed with olive oil, finely grated lemon rind, garlic, and maybe some olives or cherry tomatoes or chopped parsley or basil.  Or some cooked pumpkin and crumbled feta.  "Sauce" doesn't have to be fancy.
If you are drying it, a broom suspended between the bench and a shelf, or a clothes horse, or a baby gate all make good drying racks.
Blend cooked vegetables with the pasta dough to make rainbow pasta. Silver beet, spinach, pumpkin, carrot, beets, sweet potato all work really well.  If you use high gluten flour, you can add quite a lot and the pasta is a bit more fragile but it works.
It goes a long way.  One egg and half a cup of flour makes pasta for two. We had a pasta night at the community centre a while ago, where everyone brought a sauce, and I made pasta for thirty with a dozen eggs and it was eminently do-able.
It's very easy to make a double batch and freeze some for when even five minutes of pasta making is beyond the call of duty.  It cooks really well from frozen.  Just dry the pasta enough so that it isn't sticky (not too long or it goes brittle).  Twirl it up into little nests like in the photo, freeze the nests in a single layer, then when they are frozen you can pack into a container or bag and take them out as needed.