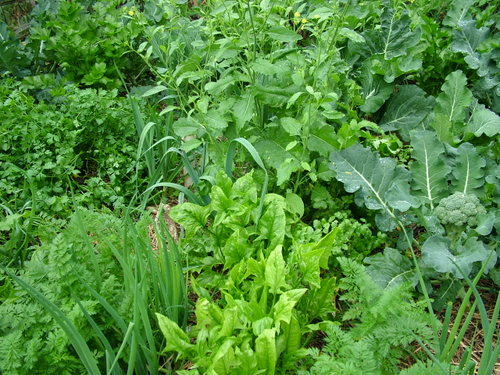 My garden has been shamefully, shamefully neglected lately.  Call yourself a gardener.  Lots and lots of other stuff going on including a couple of big projects, and that I'll be becoming a grandma in early December which is very exciting.
The bandicoots burrowed into a bed so I put off planting it out till I got time to fix the fence.  It's been too wet to mow, so I moved the chooks on without mulching a bed, and it sprouted weeds so I put off planting it till it was dry enough to mow.  We went away for a week's holiday so I let everything in the shadehouse go. But in amongst all the putting it off, I found a day, a while ago to plant.  Half an hour of mowing to get some mulch, a bed where the chooks had been, some seedlings that were overgrown in the shadehouse and badly needed planting out, a couple of hours in the garden.
I thank myself when I find time like this. It's deferred gratification, because like everything gardening you don't see the results straight away.  But it means that we have broccoli and caulis coming on, peas and snow peas, carrots and onions and celery for winter stews, spinach and kale to add greens to anything, spring onions and coriander and parsley.
Once you have a garden established and a system that works, it doesn't take much. Something I'm very grateful for at the moment!
[relatedPosts]