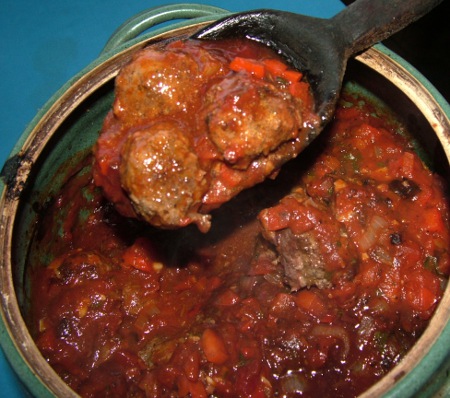 I nearly share a birthday with my father, so I made these for our shared birthday dinner.  We had family and friends for dinner, and  the last thing I wanted to do on my birthday was to be so busy I missed all the jokes.  The recipe is elegant enough to be a celebration dinner, economical for a large group, and it can be made well ahead of time.  And those of you who have visited before will know my thoughts about kangaroo as the red meat of choice.
The Recipe
The Meatballs
Finely chop
2 medium onions
5 or 6 cloves of garlic
a cup of fresh oregano leaves
In a big mixing bowl, add them to
1 kg kangaroo mince
3 eggs
2 dessertspoons of worcestershire sauce
a good grating of black pepper
Use your hands to knead the mix until it is well combined.
Wet your hands and shape the mix into balls (wet hands will stop them sticking).  Fry quickly in a hot pan in a little olive oil until they are browned. (They don't need to be cooked through).
The Sauce
In the same pan, saute
1 chopped onion
3 or 4 cloves of garlic, chopped
1 chopped capsicum
Add about 1 kg of peeled tomatoes (I used tomatoes that I had bottled last summer) and 3 or 4 bay leaves.  Cook for a few minutes (depending on your tomatoes) until it reaches a good sauce consistency. Taste and add a little salt, and maybe, depending on the sweetness of your tomatoes, a couple of teaspoons of brown sugar.
Assembling
In a casserole dish with a tight fitting lid, put a layer of sauce in the bottom, add your meatballs, and pour the rest of the sauce over.
Bake in a low oven for an hour or so, or until your guests are ready to eat.  It won't matter if it sits in the oven longer.
I served the meatballs with a double batch of  Green Green Polenta, and asparagus and snow peas sauteed in butter and lemon juice, and it served 9 comfortably with birthday cake to follow.
[relatedPosts]