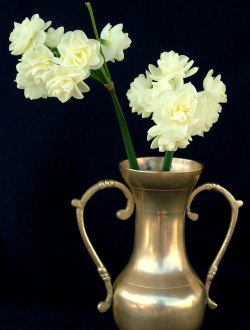 I'm due for a week at the beach and starting to wake up feeling tired and sorry for myself, and lo and behold, I go out to the garden this morning to pick greens for my lunch box, and there are jonquils, and suddenly the day is bright again.
They have survived all my neglect (I'm such a pragmatic person that flowers have a hard job getting my full attention), and there are so many of them coming on that all day I shall be able to enjoy planning who else's day needs brightening.
It's sort of like retail therapy, but much better because it's without the retail!
(PS I rubbed a lemon quickly over my old brass vase so I could take them to work with me in it. Instant brass polish. They are filling the whole office with their smell)