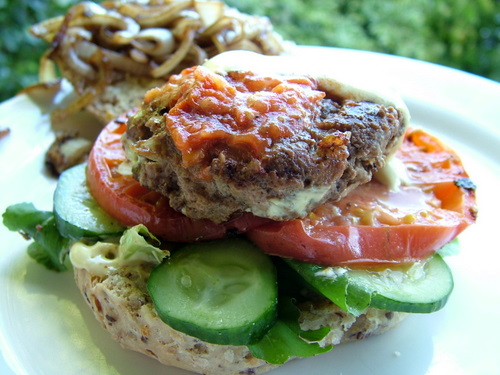 The kangaroo mince in our local supermarket comes from South Australia. It's really unfortunate. Coz otherwise it fits every criteria for the Witches Kitchen definitions of good, good and good.
It's good for you – lean, low cholesterol, high iron, organic, free range. It tastes good – pretty much like lean beef mince – in things like this I can't tell the difference. And it's virtuously good – soft feet, no greenhouse gas farts, wild harvested and ethically killed, from species that are not in any danger.  It's just not local. At least the kangaroo mince in the supermarket isn't.  But in the scheme of compromises, it's a small one.
The Recipe:
The key to a good burger patty is cottage cheese in the mix.  It makes it hold together nicely without going dry.
To make 4 large patties, mix
300 grams of kangaroo mince,
one finely chopped onion,
lots of garlic,
a finely chopped chili  (or not)
a good swig of Worcestershire sauce,
1 egg,
a couple of big spoonfuls of cottage cheese
a couple of  spoonfuls of wholemeal plain flour
salt and pepper
Use your hands to squish it all well together. The mix should be sticky but not sloppy.
With wet hands, shape into burger sized rissoles.  Fry in a little olive oil for a few minutes each side.
Fried onions are essential, so while the burgers are cooking, fry some sliced onion in olive oil. I like thick slices of fried tomato too.
You also need some home-made 2 minute mayonnaise.
Allowing everyone to assemble their own is a nice way to serve, so while the burgers are cooking, make up a platter of greens – cucumber, lettuce and rocket. Assemble some condiments – chutney, sauce, mustard.  Burger buns, the fried onions, the kangaroo patties and dinner is served.
[relatedPosts]