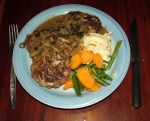 Tonight's dinner is kangaroo rissoles with onion and mushroom gravy, parsnip mash and beans and carrots. Doesn't look like health food does it? But this is one of those sneaky meals that is a Witches Kitchen version of the kind of comfort food that takes me back to the days when neither global warming nor watching calories were in my consciousness at all. It's not a great photo because I wasn't going to blog about it.  But it was so good I had to!
The kangaroo mince comes from South Australia, but I'm hoping if we keep buying it at the supermarket we'll encourage a more local supplier. Kangaroo is by far the most environmentally friendly of the red meat choices, better as far as greenhouse gasses go and also in terms of limiting soil erosion. They are wild harvested and ethically killed. And it is lean and a good source of some valuable nutrients – see the links for more. It's my Witches Kitchen red meat of choice.
Everything else meets the 100 mile rule: parsnips, beans, carrots, onions, chili, capsicum, and garlic out of the garden. My own eggs. Mushrooms from the farmers market. Local olive oil, organic plain wholemeal flour and ricotta. Worcestershire sauce is an unknown, but it fits in my don't sweat the small stuff category.
Parsnip mash is a great alternative to potato mash, with half the calories and glycemic load, and works just as well to soak up gravy. Parsnips are a lot slower and harder to grow (and therefore more expensive if you are buying them). But the substitution adds such a tiny overall amount to the household expenses.
Kangaroo Rissoles
To make 6 large patties, mix ½ a kilo of kangaroo mince, one finely chopped onion, lots of garlic, a finely chopped chili and/or some finely chopped capsicum, a good swig of Worcestershire sauce, 2 eggs, a couple of tablespoons of ricotta and a couple of tablespoons of plain flour. Use your hands to squish it all well together. The mix should be sticky but not sloppy.
Use a large kitchen spoon to drop spoonfuls into a little bit of olive oil in a pan and fry till browned and firm. Use the same pan to fry some finely sliced onion and mushrooms, and then add a bit of flour and brown it. Add the cooking water from the vegetables that have been steaming meanwhile and make gravy. Taste and add a touch more Worcestershire if it's too bland.  Serve with steamed parsnips blended to a puree with a little milk and steamed vegies in season.