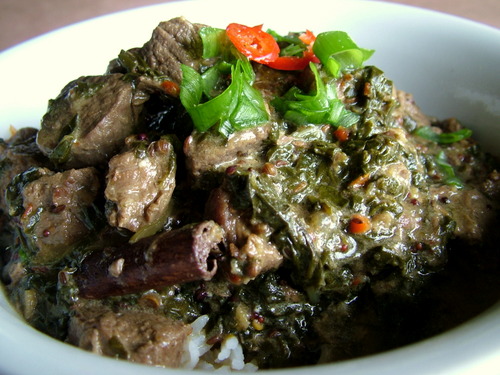 Saag is the dish I order whenever I go to an Indian restaurant, and this time of year, with silver beet and mustard both in bulk in the garden, one of my home cooking regulars.  I posted a vegetarian Saag recipe a few weeks ago, in the  Tuesday Night Vego Challenge series.  This meat version is, sadly, no more photogenic. Traditionally mutton or goat are the meats used, but kangaroo is my red meat of choice these days, and it works really well in Saag.
The Recipe:
Serves two generously.
Heat a little olive oil in a big pot or pressure cooker.
Dice 500 grams of kangaroo steak and add it to the hot pot.
Into a cup, put:
1 teaspoon cumin seeds
1 teaspoon black mustard seeds
1 teaspoon coriander seeds
1 teaspoon fennel or dill seeds
the seeds from 5 cardamom pods
(It's better if you use whole seeds for this)
As soon as the kangaroo meat starts to brown, add the seeds.  You may need to add a little more oil.  Cook, stirring occasionally, till the seeds start to pop.  (Don't let them burn).
Then add:
2 finely diced chilis (more or less, depending on how strong your chilis are and how spicy you like your food.  Saag is more aromatic than hot though).
2 cloves of garlic
a heaped teaspoon of grated or finely diced fresh ginger
a heaped teaspoon of grated or finely diced fresh turmeric (or substitute a scant teaspoon of turmeric powder)
Cook stirring for a minute or two more, till the spices all coat the meat, then add:
a cup of stock.
the shredded leaves from a BIG bunch of silverbeet.  Just the leaf stripped from the stem, chopped reasonably fine.  It will be much more than you think should go in, but it reduces, and it's the heart of the dish.
3 bay leaves
3 cm of cinnamon stick
Pressure cook for 15 minutes, or simmer for 40 minutes.  If you simmer, you'll need to add a bit more water.
It should end up with the meat and silver beet in a little bit of sauce. Take it off the heat and stir in 3 heaped dessertspoons of greek yoghurt.  Stir vigorously to break up the silver beet and make the sauce creamy.
Serve over rice, and/or with naan bread.
[relatedPosts]