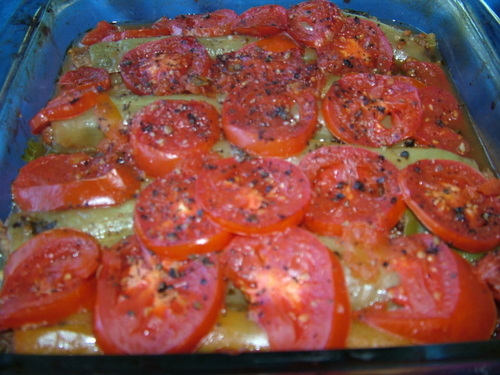 Capsicums and chilis are right in season now and I'm harvesting both.  These ones are a banana pepper, and they're either a very mild, sweet chili or a  capsicum with a bit of spiciness, depending on how you look at it.  They're slightly laborious to stuff – the larger more common bell peppers would be easier – but for chili lovers the edge of spiciness is so worth it!
And kangaroo mince stuffing marries so well with that capsicum spiciness.  Those of you who have visited before will know my thoughts about kangaroo as the red meat of choice for Australians. Kangaroo mince in particular is lean, healthy, ethical, cheap, and lends itself to recipes where there are enough other flavours going on to distract people who are new to it.
The Recipe:
This recipe makes a dozen of these banana peppers, and three is a good sized serving with vegetables or salad, so it makes a main dish for four for just a couple of dollars.
You need a baking dish with a nice tight fitting lid.  I have an ovenproof pyrex casserole dish that is perfect. You could cover with aluminium foil, but I avoid foil – it's one of those thoughtless trash products that need to be much, much more expensive to reflect their true cost.  Aluminium uses a huge amount of energy to produce (and thus contributes a huge amount of carbon).  You can argue that in cars this is offset by light weight, and in cans it is offset by recycling, but in foil it is hard to argue that is it worth it for something of such fleeting value.   And, I don't care if there's no definitive evidence that aluminium and Alzheimers are not just co-incidentally associated, I don't like it.  And, apart from anything else, aluminium reacts with acidic foods to create aluminium salts might be harmless but taint the dish. Yuk.
So, first step, find a good oven dish and turn the oven on to heat up.
In a heavy pan, sauté
300 gm kangaroo mince
1 large onion diced fine
several cloves of garlic chopped
When the kanagaroo is browned, add
300 gm chopped tomatoes (about 4 good sized tomatoes)
2 dessertspoons of currants
3 dessertspoons bulghur or couscous
half a cup of water
Simmer for a few minutes until the water has been absorbed. Turn it off and stir in
about ¼ cup (packed) of chopped fresh mint
While the stuffing is simmering, prepare the peppers. Chop the tops off and swivel a knife blade around inside them to loosen the seeds.  Wash the seeds out under running water (a butter knife is a good implement).
Stuff the peppers full of stuffing.  The fat end of a chopstick is a good implement for pushing it down to the tips.
Arrange the stuffed peppers in your baking dish.  Pour over ¼ cup of water and cover with sliced tomato.  Sprinkle with salt and pepper.  Put the lid on and bake for around 40 minutes in a medium oven, until the peppers are tender.
I served these with braised snake beans and potato.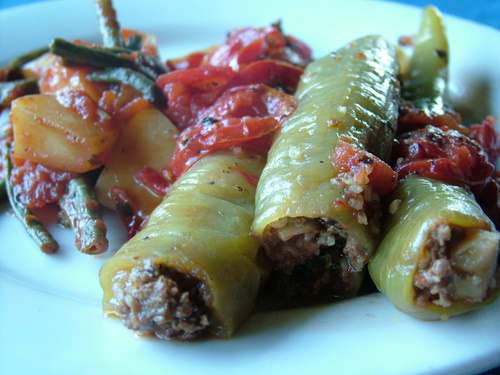 [relatedPosts]