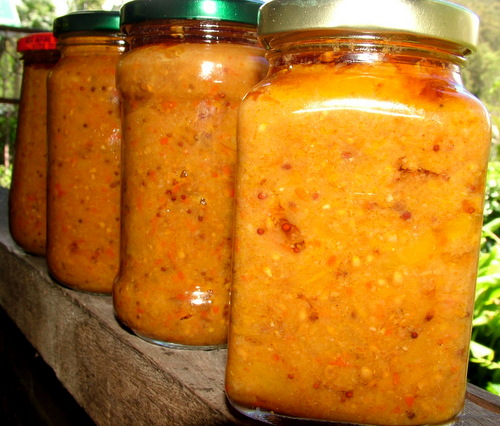 The glut crop this week was tomatoes.  This time of year we eat a lot of fresh tomatoes, practically every meal, and use fresh tomatoes for cooking.  That usually gets through most of them with some to give away fresh to friends, family, visitors.  I bottle some as passata, and sun dry some when the weather is hot and dry, and oven dry some late in the season when I have the wood stove going so it doesn't cost fuel.  But fresh is so much better than even home preserved, and I am lucky enough to live in a climate where I can get at least some cherry tomatoes for at least  nine months of the year, from late September right through to late June. And in mid to late winter it's citrus season, so there are fresh lemons and limes and tangelos that fill a bit of that sweet-tart spot.  Preserves have to really pay their way in my kitchen!
But the wet weather at the moment is causing my tomatoes to split, so I have to use them straight away.  Kasundi is a good way to make bottling tomatoes good enough for gifts and treats, worth the $5 or $6 a jar they would be worth if you paid yourself for the time it takes.  It's a rich, spicy but not too hot, tomato sauce, great with eggs or baked beans (or eggs and baked beans!), or with dhall or dosa or on bean burgers or kangaroo burgers or a sandwich with cheese.  And all the other major ingredients are in season now too.
The Recipe:
Put some jars and their lids on to sterilize by boiling for 20 minutes or pressure cooking for 10.  The recipe will make 4 medium jars like these, or around 1.7 kg.
Use a food processor, or a mortar and pestle, to blend to a paste:
120 gm ( a cup) of peeled and roughly chopped ginger
30 gm (¼ cup) of peeled and roughly chopped turmeric (or 2 big teaspoons of powder)
1 whole corm of garlic (8-10 cloves) peeled
chilies – depending on how hot your chilies are and how hot your taste is.  I like spicy kasundi, so I used about 25 Brishops Crown chilis
3 big teaspoons smoked paprika
enough vinegar to make a paste
In a big pot, put a little olive oil and add:
5 big teaspoons brown mustard seeds
3 big teaspoons cumin seeds
3 big teaspoons coriander seeds
1 big teaspoon nigella seeds (Or substitute cracked black pepper)
Cook until the seeds start to pop, then add the ginger-garlic-chili paste.  Cook, stirring, for a few minutes, then add:
1 cup vinegar
1 cup olive oil
4 cloves
1½ kg tomatoes (or substitute mangoes and/or tamarillos for up to ½kg of tomatoes). I used my yellow tomatoes (which is why it is more yellow than most Kasundi you will see) with 4 tamarillos and a couple of ripe mangoes.
½ cup (packed) brown sugar
4 teaspoons salt
Simmer, stirring occasionally, for around an hour, until it is thick and sauce-like. A good tip is to put a metal soup ladle or enamel cup in the pot so it is sterilized too.  Then you can use it to ladle the kasundi into jars.
Pour into hot sterilized jars and seal.  Check that the lids pop in before storing. It will last on the pantry shelf for a long time, longer than you'll ever hold off from eating it.
[relatedPosts]