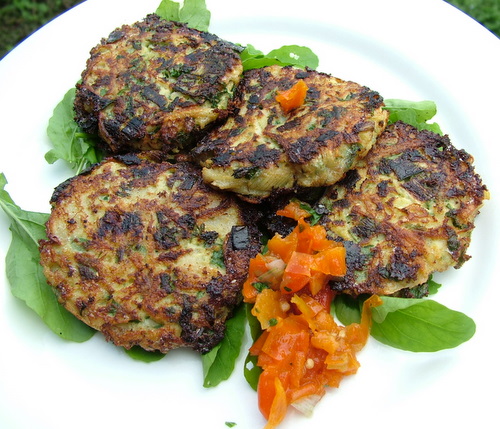 I think these are latkes.  The have eggs, so they're more latke than rosti, but they have no flour, and I don't think the cottage cheese is part of any traditional cuisine.  Whatever. They're very fast – fast enough to be a breakfast option as well as a Tuesday night vego. The cheese and eggs means they have a decent quantity of protein, and though they're fried, they don't absorb lots of oil.
I dug the late summer planting of potatoes on the weekend. Usually this is the best potato harvest of the year here. Spuds do better when the nights are getting cooler as they set the crop (as opposed to the spring planting, when, by the time they are ready to harvest in November, the nights are often so warm that the plants just don't seriously go into food storage mode).
Home grown new potatoes are a gourmet delight, absolutely nothing like supermarket spuds.  They're so good that they spoil you for out of season potatoes (and we don't need the calories anyhow). So I treat potatoes like I treat asparagus, looking forward to the season, relishing it, then letting go till it comes round again.
The crop this time was a bit disappointing in quantity. It has been so wet and overcast this year, I think they just didn't get enough photosynthesis in.  Nevertheless, there's enough here for potatoes to feature for a few weeks.
The Recipe:
(Two generous serves)
Grate 2 potatoes – a waxy variety like Dutch Cream, Kipfler,  Bintje, Nicola,  or Pink Eye. I used the  kipflers that I grew this year for these.
Mix with
2 eggs
1 spring onion, chopped
a good handful of chopped parsley
3 dessertspoons (30 ml) low fat cottage cheese or ricotta.
No flour makes them hard to handle until they start to set.  So heat a large pan with a little olive oil, wait till it's hot,  and then use wet hands to make little patties and drop them in.  Place them carefully because you can't move them till they set.
Squash them down with the back of your eggflip. Wait till they are set and golden on one side, turn and cook the other side.
Serve with a tomato salsa and a salad or steamed vegetables, or just make a platter of small ones and eat them as is, dipped in chili jam or tomato sauce.
Did you do the  Tuesday Night Vego Challenge this week? Links are welcome in the Comments.
[relatedPosts]