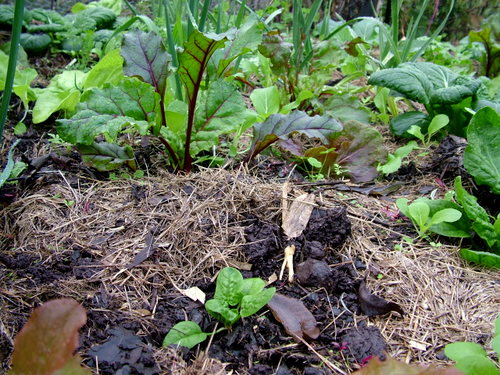 It's cold and damp today, not exactly raining but overcast and looking like it intends to drizzle any minute. It's a leafy planting day but it's not an exciting day to be out in the garden. On top of that, my garden is pretty full of leafies at the moment – all the spinach, silver beet, chinese cabbages, lettuce, rocket, parsley, raddicchio, coriander, dill, leeks, kale and celery we can get through, and the first round of broccoli, cauliflowers andd brussels sprouts just about to come on. Fruiting plants – peas, snow peas and broad beans – is where the gap is, the result of the mice getting so many of the early rounds.
I'm a sucker for a baby plant! It's a mistake I make over and over – resisting wasting a cute little seedling, planting too much in the early rounds and not leaving enough space for the later rounds. I keep planning to solve the problem by building new garden beds, but that just brings on a whole heap of other issues around securely fencing them to keep the creatures out and marketing the excess. I love having enough garden produce to send my kids home with a box full and to give away to visitors, but I'm lousy at selling.
The six beds I have in production at the moment – only about 80 square metres – is plenty for us if I use the vertical space and stagger the planting well. I can manage that area and two part time jobs (that add up to full time) without it running away from me too often. But if I don't plant at least a few of each of the leafies this time, come October there will be a lean period where I'm scratching round for salad ingredients, right when weekend barbeques become very attractive.
So I shall put in another round of seed today of lettuces, broccoli, kale, chinese cabbages, raddicchio, spinach, silver beet, celery, parsley, rocket, coriander, and leeks It will be the last for the year for some of these. By next month I will be planting things designed to mature in the subtropical summer heat and storms of November. And I shall plant out all the advanced seedlings I can fit in gaps where we have harvested something – like this spinach – dig a little hole, add a handful of compost and pop in the advanced seedling.
Then I shall retreat to the front of the wood stove with a good book and some sourdough baking experiments, and try to find the positives in this cold wet day.
[relatedPosts]