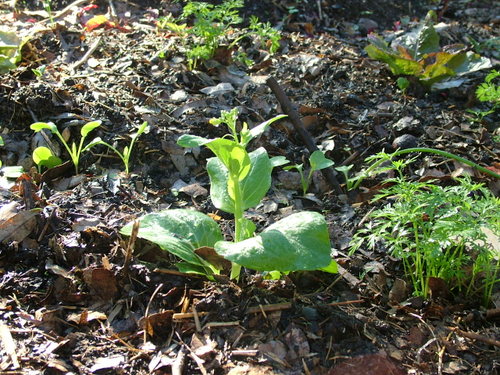 I used every trick in my arsenal for preventing bolting, but still, just a week or so after planting out,  this little Chinese Cabbage seedling has decided it's just feeling too sexy for its shirt.  The days are getting longer at an exponentially faster rate now so everything wants to flower and set seed.  OK if you want to harvest the flowers, seeds, or fruit, but not much good for leafy greens.
It's too late now for planting new seed of lettuces.  By the time they are bearing, we will be into the sizzle weather of summer.  Too late for celery – it would just get tough and fibrous in the dry heat of spring, and bolt to seed in the lengthening days.  Too late for silver beet – it just gets leaf spot in warm weather, and the tiny grasshoppers will be around by the time it is bearing anyway. Much too late for spinach – it will just bolt. I might get some flat leaf parsley if I'm lucky, and the basils have all been bred to hold back from bolting for a while.
I've tried lots of things called "spinach" of various kinds that promised to be good summer spinach substitutes – Ceylon spinach, Egyptian spinach, New Zealand spinach.  My favourite summer leafy so far is amaranth, and my favourite variety is Mekong Red, which means it's not exactly a leafy green. Mekong Red grows a metre or more tall and has dark maroon red leaves that you can pick and pick again all summer. You can add leaves and stems to stir fries or sautee in olive oil and garlic and a splash of oyster or soy sauce as a side dish.  It's hardy and productive and tasty enough that we actually choose to eat it when there are beans and zucchini and squash and all the other summer fruiting vegetables to choose from.
Next week will be fruiting planting days, and this time of year that's easy. Beans and cucumbers and zucchini and squash and tomatoes and capsicums and all their relatives. But this week it's just a small box of seed – lime and Thai and sweet basil, parsley, amaranth, and I think that will do.
[relatedPosts]