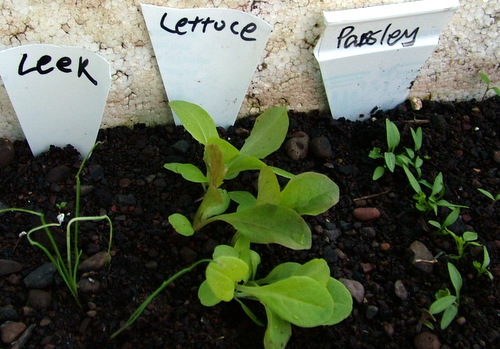 One of the most important insights that really changed the way I garden was realising just how long plants are babies for. It is still late winter, I know, but up here in northern NSW we've had a day over 28°C already, and another couple above 25°C  (scary, but let's not go there). It's been plenty warm enough for cool climate greens to germinate at their fastest.
But their fastest is pretty slow.  These babies are just under a month old, and they're just now ready for transplanting out of the seed germinating box into individual pots with lots of compost and worm castings.  They will then be happy in the shadehouse for at least a few more weeks before planting out into the garden.
So, although I have no beds ready at all, I know by the time they need to go out, the chooks will have moved twice and I'll have a bed cleared and mulched and fertilised and ready for them.  I'm trying to get a good sequential planting  rhythm going again so there's a continuous supply.  So today I planted another round of seed of lettuces, silver beet, Italian silverbeet  (lucullus), leeks, spring onions, and aragula, and a first round of the summer greens – amaranth, Egyptian spinach, and all the basils. I potted on the  lettuces, leeks, chinese cabbages, raddicchio, silver beet, parsley, rocket, and coriander. And I planted out the last of the celery, kale, and broccoli raab for the winter.
So although I have lots of overgrown weedy neglected garden beds, I nearly have a full garden in train, and that feels very good.
[relatedPosts]