Last year I planted my brussels sprouts seed in January, in the midsummer leafy planting break, after the solstice.  I transplanted them at the two leaf stage into a nice big pot full of mixed compost and creek sand  and kept them watered with compost tea and seaweed brew, and protected from aphids, cabbage moths, web moths, bower birds, and all the other things that like to eat crucifers in summer.  When they were 20 cm tall, in mid-Autumn I finally planted them out, scattered around the garden, surrounded by dill and coriander,  in a nice well composted spots on the southern side of beds where they could grow tall without shading anything, close enough to the fence to tie them to it to give them a bit of support.
And this is what I got for all that trouble: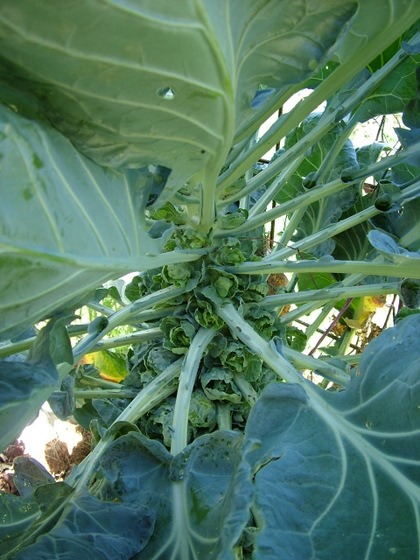 I really am too far north for brussels sprouts, and climate change is only making it worse.   Every few years, just often enough to keep my hopes up, I jag a combination of variety, timing, and weather that gets me a crop.  But most times there is just not a long enough period of cool weather for them to form sprouts, and I get loose leafy sprouts.  I should give up.  Remind me of this when I complain again next year.
The problem is that I like brussels sprouts, cut in half and lightly fried in olive oil, and they are ridiculously good for you. This time I am trying Long Island variety, planted in November.  This is the earliest I've tried it for a long time, and it will be quite a challenge to keep them safe for all the summer and autumn. But the idea is to have the plants already big enough to start forming sprouts by June.
This leafy planting break, I am also planting :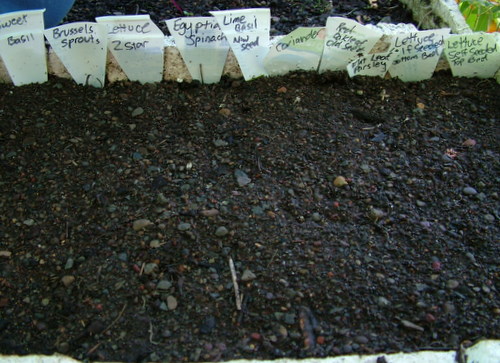 This is the season to really test out lettuce varieties.  The cos lettuces are actually doing the best at the moment but I've run out of seed of them.  The two-star are a nice lettuce but they are bolting a bit quickly for planting before the solstice, when the lengthening days are just asking for a bolt.  Red oakleaf have done well for me this time of year in the past, and the two self sown ones are from lettuces I deliberately let go to seed because they held on so long.
Some parsley and coriander, both of which will bolt quickly but if I keep successive planting going, I have the makings for tabouli and Vietnamese spring rolls. And Egyptian spinach – a new one for me.  Anyone grown it?
I have a few lettuces and basils (sweet, lemon, lime and Thai) as advanced seedlings ready to plant out into the garden, but mostly today will be cleaning out spent broccoli and brussels sprouts, trying to find space for all the sweet corn, capsicum, eggplants, tomatoes, squash, zucchini, tromboncino, cucumbers, beans, rockmelons, luffas and assorted other fruiting annuals I have ready for the fruiting planting break next weekend.
[relatedPosts]