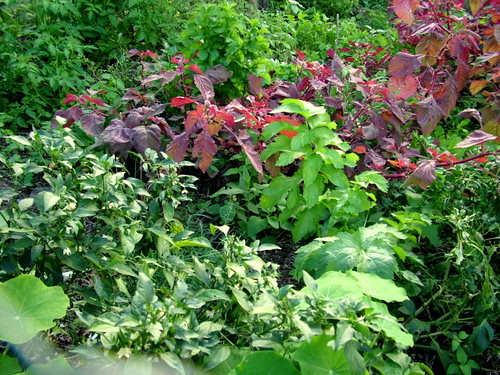 Today we pass the point on the day-length bell curve where it flattens right out.  The days are now nearly as long in the southern hemisphere, and short in the northern hemisphere, as they will ever get.   In the northern hemisphere,  Halloween is the traditional festival marking the beginning of the season of short days, and long evenings of storytelling and remembering.  But here in Australia, it's the beginning of the long days of summer.  In the last six weeks, my days have gone from 10½ hours long to 13½. In the next six weeks they'll only gain another hour, and there'll be around 14 hours of sunlight a day for the next three months now.
All this light makes it a bit hard to grow leafy greens. Many of our leafy greens evolved in climates where photons were in short supply and it was important to capture every bit of available sunlight.  They evolved big leaves with a big surface area of chlorophyll for photosynthesizing, and lots of water filled structural veins to hold them open to the light.  It makes them crunchy and tasty, and grow fast, and full of nutrients, but  they didn't count on being carted half way round the world on a sailing ship. It isn't a fantastic survival strategy on a big island much closer to the equator and much drier.
Ideally lettuce and silver beet and endive and mizuna would like long days, but much cooler, wetter, and less bright.  I can't do a lot about the cooler.  For wetter, I build up the organic matter in my soil, mulch heavily, and water in the evening and early morning. For less bright, I try for a summer garden that is dappled shade.
In autumn and winter plantings, I'm careful to plant climbers like peas only around the fencing on the southern side of beds. Then, to the north side of them the taller plants like broad beans and brussels sprouts and dill, then in front of them the next tier – things like broccoli and and parsnips and celery –  then in front of them the onions and garlic and silver beet, then in front of them the lettuces and radicchio and parsley and finally round the north side of the bed the strawberries.  That way nothing ever shades anything else. In permaculture jargon it's called stacking (and the same principles and ideas apply with trees too, on a taller scale).
But for spring and summer plantings, there's too much light for many plants, especially the shorter ones.  I plant the climbing beans and cucumbers right round from the south east to the south west side.  On the north east and north west I plant less densely, but still climbers like indeterminate tomatoes and  tromboncino, and I let the nasturtiums climb the fence. I even let the odd snake bean have a bit of fence on the northern side. Tall plants like amaranth and capsicums and basil are scattered over most of the bed.
Nestled in the jungle, I can find a spot for lettuces and rocket that gets dappled shade for much of the day.  If I give them plenty of compost and mulch, and enough water so there is plenty to share with bigger neighbours, they all get along fine.  This leafy planting break, I am planting out seedlings of wild rocket (aragula) cos, brown romaine, royal oak leaf and  2 Star lettuces, and sweet basil, lime basil and Thai basil.  There's plenty of amaranth self seeded, and some self-seeded rocket that I'll harvest as baby leaves before it bolts.  And I'm planting another round of seed of all of these.  It's been a cooler and wetter than usual year this year, a good year for lettuces. I might actually get Christmas salads based on lettuce this year, for a change.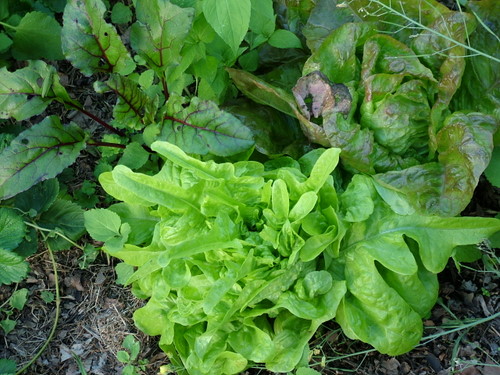 [relatedPosts]