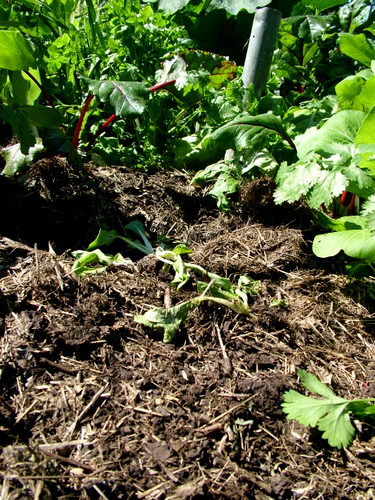 *&*%$# bandicoots!!
Tiny little hole in my fence – it took me an hour to find it – and they've dug up every single thing I've planted in that bed for the last month.  Where's the snake when you need it!
And the bower birds have got into the shadehouse too. It's slightly tragic for the leafy greens, because it's change of season time. I have a few advanced seedlings of lettuces, raddicchio, spinach, silver beet, celery, parsley, coriander, and leeks to put in, but I didn't raise many seed of them last month because it was already then into risky time and I didn't think I'd have anywhere to plant them.  And the bower birds have taken the tops off all the baby broccoli, kale, chinese cabbages, and rocket in the shadehouse.
I won't bother replanting seed of most of them now.  By the time they are ready to plant out, the days will be lengthening so fast they will just bolt to seed, and the cabbage moths will start to get active anyway.  So there will be a little spot in early November when I'll curse the bandicoots and bower birds again for the early end to the leafy greens season.
In my seed raising trays, I'm planting seed of heat hardy lettuces this time – purple and green oakleaf varieties.  I'll go for aragula (wild rocket) rather than rocket – it will survive the heat better and won't tend to bolt to seed so fast.  Amaranth has self-seeded all over my garden this year so I won't bother with seed of it.  No more coriander – I'll rely on the perennial culantro (or Mexican coriander) from now on. But it's quite exciting to be planting the first basil for the year – sweet basil, lemon basil, lime basil, Thai basil. I am already starting to imagine pesto!
[relatedPosts]