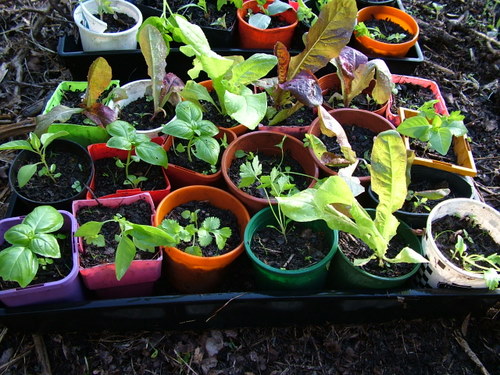 One of the best things about planting advanced seedlings is the head start you get.  I think people tend to forget how long plants spend germinating and as babies. These seedlings are a month old already.  If I'd planted them directly a month ago, this bed would have spent all that time hardly used, just inviting weeds.
In fact the bed spent the month with chooks in it, being given a barrow of organic matter most days to scratch and poo in.  It's beautifully ready for planting. And I have several trays of seedlings that will go into it over the next  couple of weeks. Today and tomorrow are leafy planting days, and I have a  this batch of seedlings planted as seed a month ago and potted on at the two leaf stage into a mix of compost and creek sand.  Next week I'll plant some fruiting annuals – beans and corn and cucumbers and capsicums and squash and zucchini, and the week after some roots, and in less than a month the bed will be so full you won't be able to see the soil and I'll be picking from it.
It's a big investment in soil, but that's my gardening philosophy.  I reckon you get better yields from a small area with lots of fertility than you do from a large one just dug up. If you only have a barrow of compost, you'll get more to eat out of a pocket handkerchief garden than spreading it thinly over the whole back yard.
There's not a lot of leafies to go in.  I hold back on planting seed before the summer solstice, as they have a tendency to bolt.  But also, there's only so much lettuce and basil we can eat.  Three or four lettuces a month is enough when they are loose leaf ones and you just pick what you need every day.
This arvo I'll put in another tray of leafies, and now it's past the solstice I'll be a bit more confident.  Lettuces, aragula, rocket, amaranth, basil, lime basil, coriander.  Maybe some endive and mizuna too. This cool wet year is really good for leafies.
[relatedPosts'