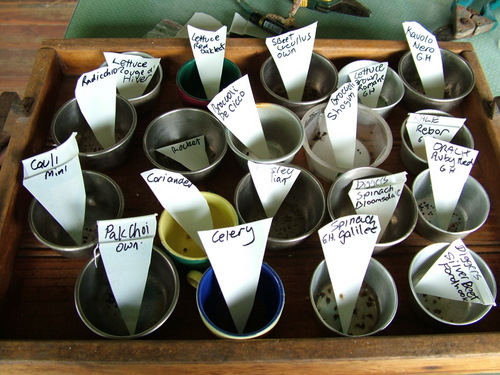 Leafy planting days from Sunday through to tonight, and I meant to post this on Sunday, but I was having too much fun in the garden to come in.
In Spring and Summer, it's the fruiting annuals that dominate the planting calendar. In Autumn and Winter, it's the leafies. This is a big and interesting planting break, the first one for the season in this part of the world when I plant brassicas – kale, cauliflowers, broccoli, cabbages and chinese cabbages. It's also the first when I plant spinach, silver beet, celery, and parsley.  I plant some lettuces and rocket all year round, but this time of year I swap from the heat-hardy varieties to the bigger collection of more interesting winter varieties.
We are past the equinox now (I missed the celebration this year – it was a hard toss-up but the need for a long bath and an early night won out). It means the season of long nights has started. Up here it never snows and rarely even frosts, but plants don't know that. They store food and hunker down, waiting for lengthening days to signal that it is safe to go to seed. So all the bolters are now safe to plant.
It has, all of a sudden, got cooler too.  I put an extra blanket on for the first time last night, and had to heat water for a morning shower after a night cool enough to undo the day's work of the solar hot water system. Very soon we shall start lighting the slow combustion stove for cooking, heating, and to boost the hot water system.  There are still a few cabbage moths and aphids hanging around, but not for long now, so it is now safe to plant a whole range of vulnerable vegetables.
I planted all the seed in the photo – just a few of each – there will be five or six more successive plantings of them all to come and I don't want to use up all the space in the first month. Plus there are still zucchini and squash and capsicums and cucumbers bearing that will gradually die off over the next few months.
I find it hard to love winter but the winter greens are some compensation – I'm really looking forward to pulling out the kale and cauliflower recipes again.
[relatedPosts]