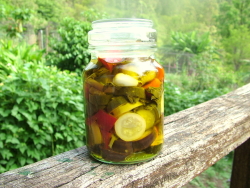 Obtain a yield is the permaculture principle, but zucchinis this time of year can be a challenge, not a yield, especially for the kind of frugal people that gardening attracts.
This recipe is not so much a way of preserving them as a way of making them a lot more popular (although it will last a long time in the fridge if someone doesn't eat it first, which is highly unlikely because it is seriously delicious, for example on rye bread with cheese or in pitta bread with hummus, mmmm.)
You need about 4 cups of vegetables cut into 1 cm thick slices.  A mixture of  zucchini, eggplant and capsicum is wonderful and also looks gorgeous, but just zucchini on its own tastes good too.  For this batch I used green and gold zucchinis, black and red eggplants, red and green capsicums.
Put the zucchini et al in a colander, sprinkle with a good tablespoon of sea salt and let sit for two hours, stirring occasionally.
Don't rinse, just transfer to a saucepan with 2 cups of water, 1 cup of cider vinegar, and about 4 cloves of garlic.  For all recipes that are acidic (like those with vinegar), it's best to use a stainless steel, enamel, or Pyrex saucepan.  Bring to the boil and simmer for five minutes.  If you have fresh oregano and basil, add a dozen or so whole leaves of each in the last half a minute, just to blanch them.  Drain and arrange in clean glass jars.  If you didn't have any fresh herbs on hand, sprinkle some dried herbs in as you fill the jars.
Cover with olive oil and keep in the fridge. To eat, fish the vegetables out with a fork.  You can re-use the oil for another batch or for salad dressing.