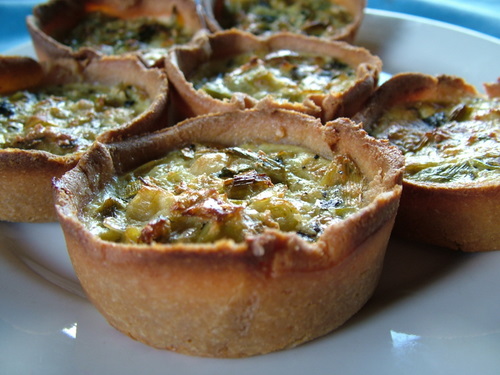 It's getting towards the end of the best season for leeks. Pretty soon, the big ones will start to realise it's spring and want to bolt to seed.  if you have leeks hanging on in the garden, it's a good time to use them, before they start developing the hard core they get as they go to seed. Ever since I figured out how to make pastry with olive oil and low fat yoghurt,  rather than butter, pies and tarts have become a reasonable midweek regular meal rather than a "sometimes food", and leek tarts are a good way to use lots of leeks.
My chooks have already realised it's spring.  A good number of my chooks are geriatric. They earn their keep just with their weed clearing, pooing and scratching, and they only lay well for a few months in spring.  But when they are all laying, eggs feature in a lot of my cooking.
This is a late  Tuesday Night Vego Challenge recipe this week – time just ran away on me.  But your fast, easy, healthy, midweek vego recipes are welcome in the comments.
The Recipe:
Makes 6 large muffin sized tarts. Recipe doubles fine.
The Pastry:
Into a food processor or a bowl, put 1 cup of wholemeal plain flour and a good pinch of salt.
Put a couple of good dessertspoons of low fat Greek yoghurt in a cup, then top it up to half full with olive oil. You want it about half and half – ¼ cup of each. You don't need to mix them.
Tip the cup all at once into the processor or bowl and blitz them together.  In a food processor it's just a couple of seconds, but you can do it just by stirring.  Knead just enough to combine into a dough.  It needs to be quite moist so don't add any more flour than necessary, and don't overwork the dough or it will get tough.  Put the dough in a plastic container in the freezer to cool while you make the filling.
The Filling:
Sauté 2 cups of chopped leeks in a little butter or oil (or a mixture of the two). I use the whites and pale green part, and save the dark green leaves for stock.
Use the (unwashed) food processor, or an egg beater to beat together:
2 eggs
¼ cup white wine (or substitute a squeeze of lemon juice in water, and use ordinary thyme rather than lemon thyme).
a dessertspoon of lemon thyme
a good grating of black pepper
Chop 60 grams of low fat feta cheese into tiny cubes and stir them in.
Let the leeks cool a little while you roll out the pastry, then stir them into the egg mix too.
Assembling and Baking:
The pastry is quite fragile.  The easiest way to roll it out is to put a sheet of greaseproof paper on your bench top, put the ball of dough on it, and cover with another sheet.  Roll the pastry out between the two sheets, turning once or twice to un-wrinkle the paper. You can then peel the top sheet of paper off, cut the dough to fit your muffin tins, flip the lot and peel the other sheet off. Roll the scraps out between the greaseproof paper again.
I have a small bowl that cuts circles of dough the perfect size for my Texan muffin tin, and this recipe makes just enough to fill it.  Really though you can make them any size or shape you like.
Grease the baking tins lightly, line with pastry, and spoon in the eggs, cheese and leeks mix.
Bake in a medium oven for around 20 minutes till the pastry is golden.  Serve with a salad or steamed vegies on the side.
[relatedPosts]