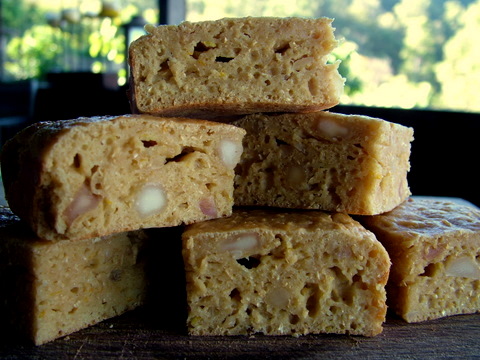 I've already blogged on about the nutritional value of macadamias and lemons (especially lemon rind), so I won't go there again.  These are blondies (as opposed to brownies), and as well as macas and lemons, they are a good source of protein with their eggs and low fat ricotta.  They have no butter and very little sugar (in fact, I shall be interested to see if the reviewers think they're sweet enough).
The Muesli Bar Challenge is a weekly series of recipes for school lunch box treats that are healthy, based on in season ingredients,  easy and fast to make, and  rated by my school age reviewers as preferable to the overpackaged, overpriced  junk food based on corn syrup and trans fats so aggressively marketed to kids.  I am aiming for one for every week of the school year – this is number 20 and so far I have won all 20.
The Recipe:
Makes 8 blondies.
For this recipe you need a shallow cake pan that is 21 cm diameter, or (preferably) a similar area in a square or rectangular shape, eg 18.5 cm square, or 14cm by 25 cm rectangle.  The recipe has no butter in it, so you need to grease the pan quite well.
Turn the oven on to medium to heat up.
Coarsely chop 50 grams of fresh macadamia nuts and put them in the oven to roast as it warms up.  You want them with just a touch of toasty brown-ness.
Grate the rind off a lemon, then juice it.  You need 3 teaspoons of zest and 100 ml of juice.
Beat 3 eggs with 3 dessertspoons of brown  sugar

and  1

25 grams of low fat ricotta.
Add  a teaspoon of

vanilla essence,

a pinch of

salt

, and t

he grated rind and juice.
Mix in 1¼ cups of wholemeal self raising flour

and the toasted macadamia nuts.
Pour the mixture into the prepared cake pan.  Bake in a moderate oven for 25 minutes or so until it is firm in the centre and golden on the edges.