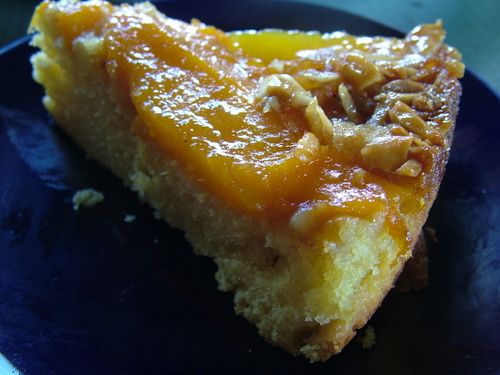 Picked the last of the mangoes this morning.  Maybe a week more of mango gluttony, then it's over (except for the chutney and the pickles and the icecream) for another year.
So here's the mango upside down cake recipe, so I remember it for next year.
The Recipe:
Turn your oven on to heat up to medium (180°C or 350°F).
Grease a 20 cm cake tin and line the base with a circle of greaseproof paper.
Make the mango topping first.
Slice enough mangoes to nearly cover the bottom of the cake pan in a single layer.  Arrange them in a decorative circle if you like. Sprinkle half a cup of chopped macadamia nuts in the gaps.
In a frypan, melt a good dessertspoon of butter and a good dessertspoon of raw sugar. Cook for a few minutes till the butter sugar mix just starts to caramelise and go sticky, then drizzle this mix over the mangoes and nuts.
Now make the cake batter.
In a food processor, blend together 100 gm butter (just under half a cup, or most of a stick) with half a cup of  brown sugar.
When it is nice and fluffy, add three eggs, one by one, and half a cup of chopped mango.
Then a teaspoon of vanilla, or scrape half a pod, and a cup of self-raising flour.
Pour this over the mango topping.
Bake for around 40 minutes in a medium oven till a straw comes out clean.
Cool for ten minutes or so in the pan, then carefully turn out. I run a knife around the edge of the cake in the pan, put a plate over the top, then invert and tap lightly on the bottom of the pan.  Carefully peel off the paper. Voila!