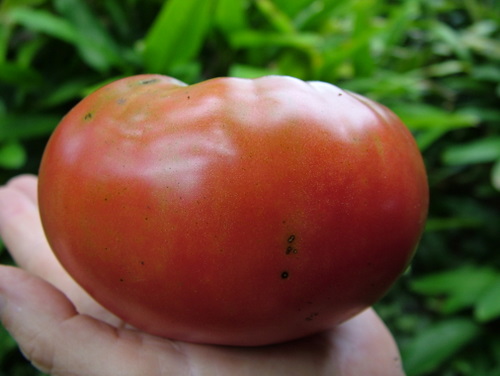 Now how do you do justice to a tomato like this? You can stuff up beautiful produce by overelaborating. It's hard to go past just a slice of sourdough toast, a drizzle of olive oil, and a beautiful, vine ripened Brandywine tomato in thick slices with salt and pepper.  Tomato on toast for dinner – if you have real bread and a real tomato, you could elaborate a great deal without improving either the flavour or the nutrition.
I think a Margerita pizza is about as far as you can go without going backwards.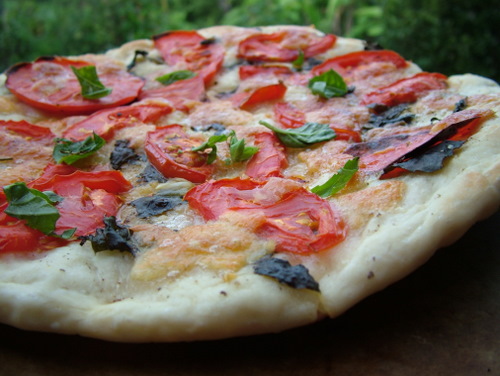 The Recipe:
The Crust:
To do this in half an hour relies on you having sourdough or bread dough ready to go.  I am in a rhythm of making sourdough every second or third day, usually my Oat and Linseed Sourdough. But although I will usually go for heavy wholegrain every time, I have to admit, for Margherita, I like plain, white pizza dough.  So I just reserve a bit of starter in the morning, mix it with unbleached baker's flour and a bit of salt to make a dough, stretch it out by hand to cover my pizza tray quite thinly (given that it will rise by at least double), and leave it covered with a clean tea towel on the kitchen bench for the day.
If you don't do sourdough, you could use a yeast based dough – I've got a recipe in my Pumpkin, Feta and Caramelized Onion Pizza  post, or you could just go with a plain, bought pizza base.
The Topping
A little olive oil, easiest spread with fingers, covering the whole base out to the edges, to give you a nice crisp crust
A couple of cloves of garlic, crushed
A little real mozzarella (the white kind) or bocconcini, torn, scattered over the base
A real tomato or two, sliced and scattered over the base – not too much or it will go soggy, not too little because the tomato is the star
Salt and pepper – this is important
A little sweet basil, roughly torn and scattered
A little drizzle of olive oil over the top
Bake in a very hot oven for around 10 minutes.
[relatedPosts]