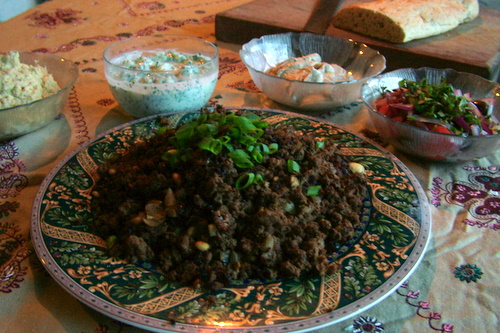 We hosted a meeting over dinner at our place, which meant 10 people for a casual dinner on a weeknight.  I wanted to use kangaroo – kangaroo is my red meat of choice, for a whole heap of reasons – ethical, ecological, nutritional, and not least economic. Kangaroo mince is less than $7 a kilo, beef mince is nearly double that, and heart smart lean beef mince even more. Cooking for 10 it makes a difference!
But not everyone was used to kangaroo, so to be safe I decided to go middle-eastern. Many middle-eastern recipes use goat meat, or lamb that is from breeds much less fatty than Australian lamb, and the spice profile is designed for stronger flavoured game meat.  It means they often work well for kangaroo.
If you make your own hummus and bread and salads out of the garden, a Morroccan style feast like this can feed 10 people very well for less than $10, or a family for a few dollars.  Hah, Curtis!
The Recipe
Dice an onion and saute in a little olive oil in a heavy pan over a high heat.
As soon as the onion starts to soften, add 500 grams of kangaroo mince.  Cook over a high heat, breaking the mince up with a wooden spoon, until the mince starts to brown.
Sprinkle over 3 cloves of garlic chopped fine, and  3 good teaspoons of Moroccan spice mix.  I like to make my own spice mix because I can grow most of the ingredients and fresh turmeric, ginger, and chili are all super healthy.
To make your own, using a mortar and pestle, crush together:
a nut sized knob of fresh turmeric and one of ginger,
a fresh chilli
a sprig of fresh coriander or culantro,
a teaspoon of mixed dry cumin and cinnamon,
a pinch of cardamom and nutmeg and just a whisker of cloves.
Continue cooking, stirring, over a high heat for a minute, then add 3 dessertspoons of  chopped macadamia nuts, and 3 dessertspoons of sultanas.
Keep cooking and stirring for a few minutes more until the nuts start to brown.
The perfect way to eat is to slather hummus or babaganoush (or both) on a slab of Turkish bread or Pita bread, cover with spiced mince, tabouli, tomato salad, and cucumber-yoghurt salad and eat either as an open sandwich or a roll.
[relatedPosts]