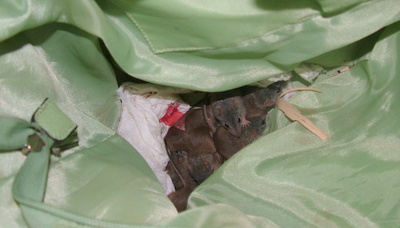 This morning, lying in bed with my cup of coffee (yes, I get coffee in bed every morning), a mother antechinus ran along the window ledge with four babies clinging to her back, and dropped them into my handbag.  A few minutes later, she was back with another lot, and another.  In total, there were twelve babies, dropped into my bag.  And she was off.  Handbag day care.
Now what do I do with a dozen, very cute baby antechinus in my handbag?
If you're reading this in an urban area, or outside Australia, you probably haven't met antechinuses. Antechinuses look a bit like large mice with a pointy nose but they are actually marsupials, more closely related to koalas than mice.  They are mostly insectivorous, so they don't raid the larder and they specially love cockroaches, and baby mice. They don't smell like mice do, and they don't chew cables, but they do love making nests in odd places, and they steal and shred clothing (for some reason they particularly like knickers) for making their nests. And they're not house trained. In urban areas cats have eliminated them, and though they're not particularly endangered in the bush, they are native and protected.
The babies won't survive on their own.  But I need my purse and keys and…
So what's a good wildlife protector to do?