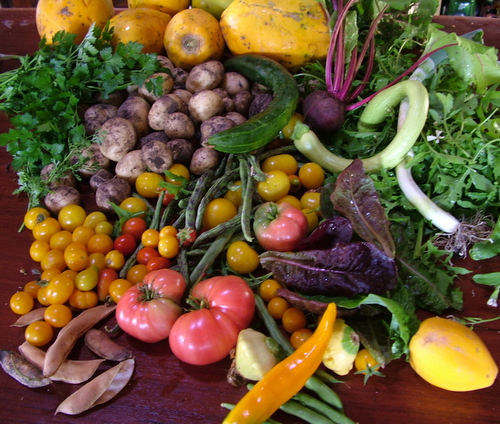 The paw paws have been prolific this year.  We're eating one a day most days, but they're starting to slow down from now on.  The strawberries weren't as good this year as last year, mostly because I got too busy in winter to plant out a new bed or mulch up and compost the old one, so they were a bit neglected and they paid out on me for it.  But this year looks like being another bumper year, like 2010, for mangoes. The trees are so laden, I'm thinking about green mango recipes. Our grape vines are also laden.
I live too far north and low for good stone fruits – we get some from a thick skinned seedling peach tree, but I've cut out most of the stone fruit. It's just more work than a good permaculturist can justify to keep the fruit fly off.  But we do get some at the local Farmer's Market coming from the northern Tablelands, which is nearly in my local zone as the crow flies, just 600 metres or so higher.
Blueberries are also just about to come into season and I'm lucky enough to live in a good blueberry growing region.
As far as vegetables go, it's already well and truly summer in my garden.  No more brassicas – broccoli, kale, cabbage – but all the curcubits – tromboncino, squash, cucumbers. We've had lots of asparagus over the last few months, even having to rescue it regularly from wallabies that will go to extreme lengths for asparagus. But it's time now to let it grow out. Rocket and flat leaf parsley are the main greens.
I've dug all the spring planted spuds now – this is the last of them.  Then no more potatoes until the autumn harvest comes in in May. This year I seem to have beaten the tomato viruses that plagued me year before last.  Last year I went very easy on tomatoes so as to rest most of the beds from them.  And it has worked. I've been harvesting Principe Borghese,  Roma, Yellow cherry, yellow pear, and Brandyvine  – a big bowlful every day. Beans are all bearing well. So far it has been mostly Rattlesnakes, bearing continuously and copiously for a couple of months now. But I also now have  Blue Lake and Purple King to choose from, and snake beans very soon.
My garlic is in, not so many as last year, and beetroot, for some reason, are doing well this year.
So that's what I'm  basing my cooking around at the moment.  I'd love to hear what is in season in your garden.
[relatedPosts]