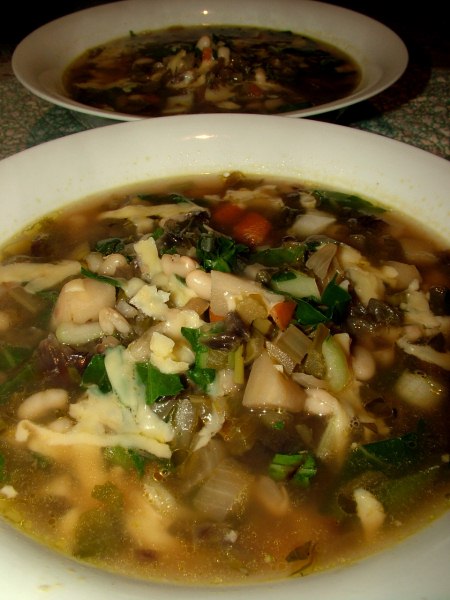 This time of year, part of the evening ritual is chopping some firewood and lighting the slow combustion stove.  I'm not a huge fan of winter but I do like the stove. It's a lovely old Rayburn we bought second hand about 20 years ago, probably half a century or more old. It warms the house, the hot water, the dinner, and the rising bread all at the same time.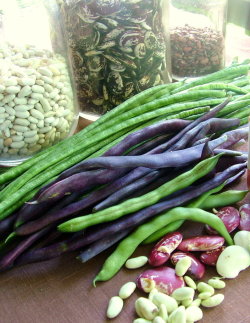 Burning wood creates greenhouse gases, but we plant more than we burn so we come out ahead, and chopping wood is a nice bit of daily exercise. It also means it is easy to keep a pot of stock going and that makes winter soups something more than a fallback meal.
It also means I am really glad of all the beans I dried when they were in glut back in early autumn.  Minestrone with white beans is peasant food straight out of the garden, that deservedly ends up on restaurant menus.
The Recipe:
Soak about 2/3 of a cup of white beans for a couple of hours, then cook them by simmering for about 40 minutes or pressure cooking for about 20 minutes.  (It will vary depending on the variety of beans).
Meanwhile, saute in olive oil (all finely chopped)
1 onion
2 cloves of garlic
2 stalks of celery
a carrot
the stem or core of cabbage or radicchio
When they are just beginning to brown, add 2 cups of vegetable stock (or, if you don't have stock, 2 cups of water and a swig of soy sauce).
Add some:
chopped tomato if you have it,
finely chopped basil and/or oregano,
ground black pepper,
finely shredded cabbage or radicchio.
Traditionally you also add macaroni but I like my minestrone without pasta.
Simmer until the vegetables are cooked.  Add the cooked beans, with as much of their cooking water as you need to make the consistency right.
The final garnishes are important.  Taste and add salt, pepper and lemon juice to taste.  Serve into bowls then add a dribble of good olive oil and a generous sprinkle of freshly grated parmesan.
It makes two large bowls for dinner, or four smaller ones as a light meal or starter.