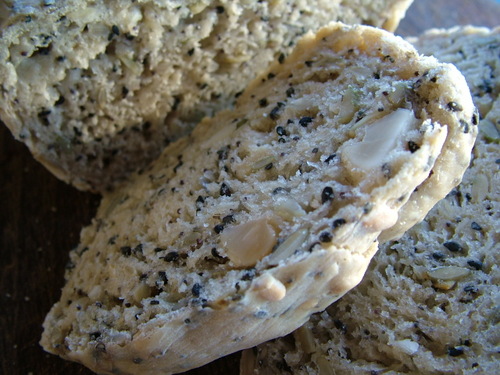 My 11 Grain Sourdough is still my daily bread. I make a small loaf a couple of times a week.  It tastes wonderful, and it's super healthy with lots of low GI complex whole grains.  But most weeks I do something else as well just for variety.  Sourdough Pita and Seedy Sourdough Crispbread are very regular, Sourdough Naan Bread fairly common.  And this latest one has been a regular regular lately, and will likely stay regular till the macadamia season is over.   Macas, besides tasting wonderful, are really good for heart health,   – there's some very good science that just a handful of nuts a day makes a huge difference. But mostly, it's just because it's so decadently delicious!
The Recipe:
The recipe makes a small loaf, which is all I usually make at once.  You only need very thin slices – it's so rich – so it goes a long way.
First the starter, taken out of the fridge before I go to bed and fed with a mug of baker's flour mixed with a mug of water.  A cup and a half of it put back in a container with a loosely fitting lid in the fridge.  The rest (about a cup and a half full) left in a bowl covered with a tea towel on the bench overnight.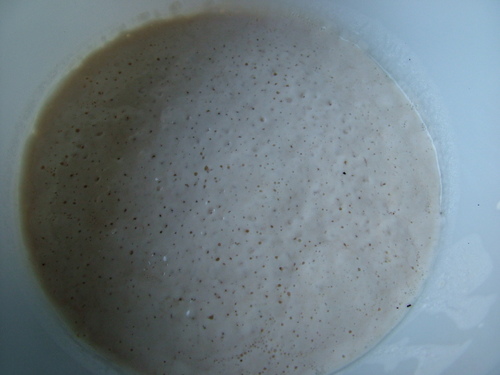 In the morning I add a couple of handfuls of roughly chopped macadamia kernels, and a handful each of whole pepitas, sunflower seeds, black sesame seeds, and crushed linseeds, and a couple of spoonfuls of poppy seeds.
Stir this lot in, along with a teaspoon of sea salt, and enough unbleached baker's flour (high gluten flour) to make a smooth dough.
Put a slurp of oil in a bowl, roll the dough round in it, then leave to sit on the kitchen bench, covered with a cloth, for the day.  I can get macadamia oil in bulk from my local wholefoods store, so that's the oil I use for this.
By the afternoon, the dough has doubled in size. I lightly flour the bench top and give it a very quick knead, put it into an oiled bread tin, and slash the top.
About an hour and a half to two hours later in this warm weather it is ready to bake.  It goes in a cold oven set to medium hot, and takes around an hour to bake so it sounds hollow when knocked and has a nice brown crust on top.
It's good fresh or toasted, with sweet or savory topping – but I have to say my favourite is toasted till the macas have just a bit of colour, and spread with local honey.
[relatedPosts]