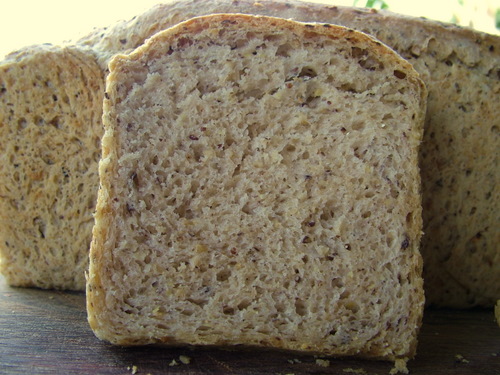 I'm on a mission to lower my "bad" (LDL) cholesterol. I already eat really well, and I can't bring myself to consider the "proven to lower cholesterol" margarines so there's not a lot to play with.  Oats, lots of oats, and oat bran, linseeds, and macadamia oil are just about the limit of the adjustments I can make.
So this is my new favourite bread.  It has lots of oats.  And some linseeds. And it is easy enough for me to make even on weekday workdays. And it tastes really really good, as toast and as sandwiches.
The Recipe:
It takes 24 hours, but only about 15 minutes work over all that time.  Oh, and you need a sourdough starter.
Before I go to bed:
Take the sourdough starter out of the fridge.
Mix 1 ¼ cups of unbleached bakers flour, 1 ¼ cups of water, and 1 ¼ cups of starter.  (I use my tank water, which has no chlorine or additives in it).
Put half of it back in the jar in the fridge.  You should be left with 1½ cups of fed starter, to put in a bowl covered with a clean cloth on the kitchen bench for the night. By morning it should be frothy, like the picture.
Next morning: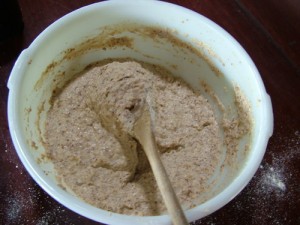 Mix in:
¼ cup crushed linseeds
½ cup rolled oats
¾ cup oat bran
teaspoon treacle
teaspoon salt
Let that lot soak in while you cook ½ cup steel cut oats in 2 cups of water.  Be careful – it will tend to overflow if it is on too high.  Just simmer for around 5 minutes until you have a thick porridge.  Cool a bit, then add to the mix.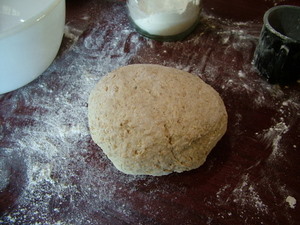 Stir in a cup of unbleached bakers flour to make a thick dough. Tip another half a cup of flour on your benchtop and have another half a cup ready.  Tip the mix out onto it, and with floured hands knead in the flour.  Add as much more flour as you need to prevent the dough sticking.  It should only take a few minutes, you should use most of the flour, and you should end up with a ball of soft, springy, not too sticky bread dough.
Put a good dollop of macadamia (or olive) oil in a large bowl, swirl the dough ball around in it to coat, cover the bowl with a clean cloth, and leave out on the benchtop for the day to prove.
When I get home at 5.30
The dough will be two to three times the size it was when I left.  I tip it out onto the benchtop (it's already oily so no need to flour) and knead very briefly – a minute or so – then put it in a oiled baking tin. Slash the top with a sharp knife, cover with the clean cloth again and leave again.
At 7.30
The bread will have doubled in size again.  I put the loaf in the middle of a cold oven, turn the oven on to medium hot, and bake.  It takes about 40 minutes in my oven.  I know when it is done when the crust is nicely browned and it sounds hollow.
[relatedPosts]