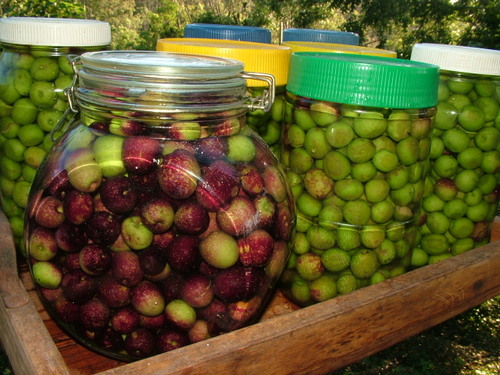 We actually managed to harvest olives this year!  Some years – most years in fact – we're a bit too slow.  I play chicken with the birds and lose. I like black olives better than green, so I wait and watch the trees, laden, ripening. Then one day, just at the point where I'm thinking best not to risk waiting any longer, I check and they're all gone.  All….gone.
Maybe I jumped in a little early this year.  Only one jar of black olives, and the rest are green, but a decent harvest and … I can learn to like green olives.
We're using a southern Italian method of curing.  The black olives are left as is, but the green olives are cracked with my garlic rock, before being put in jars and covered with fresh water.  Cracking just involves hitting them hard enough to split, but not so hard as to crush. I drain them and change the water every day for two weeks, then put them in a strong brine solution ( 1/3 cup salt to every 1 litre of water)  and leave for three months.  Then I drain off the brine and cover with olive oil, packing in some preserved lemon, dried herbs, garlic, and chili.
The last of last year's olives were the centre of the platter this week, and for green olives, they were pretty good after a year of curing.  Marinated olives, cherry tomatoes, cucumber slices, grilled haloumi, marinated green beans, pomegranate juice with soda water and ice. Yum.
[relatedPosts]