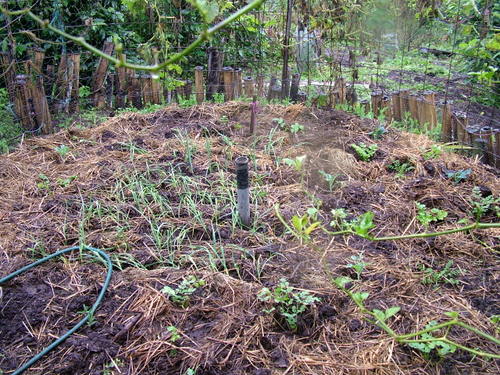 Inspired by my own last post, I've got it together to go out in the rain and plant out a new bed.  I'm wet and muddy, but I did have such fun. And the wood stove is going so there is hot water to get clean and warm again, and visions of broccoli and caulis and onions and carrots and beets and peas and celery and spinach and lettuces and kale to be harvested in a few months.
Advanced seedlings are such a wonderful instant garden technique.  The chooks came off this bed a week ago and it was mulched but empty (apart from some stinging nettle they declined to clear for me).  The seedlings have been growing happily in the shadehouse for the last few months in pots of compost mixed with creek sand, with some worm castings and seaweed brew to keep them very healthy.  Within a couple of hours, I have fully planted garden, and within a couple of months, harvestable crops.
Today I've planted a new set of seeds in the shadehouse to keep the roll happening.  It's a little early but here in northern NSW our winters are short.  The days are already perceptibly longer and in another week we will reach the point in the day length bell curve when the days start lengthening faster and faster.  All of a sudden the season will shift. Spring, though it is still unnoticeable, is already in the air.  It's a point in the calendar that has been recognised forever, celebrated in Europe as Imbolc, or St Brigid's Day, in north America as Groundhog Day, in Japan as Setsubun, in India as Vasanta, and probably by Australian Aborigines too, though we white Australians have been shamefully ignorant in learning from them.
So I'm taking a risk on planting the first of the summer fruiting annuals, hoping it will be warm enough for seeds to germinate.  I've laid some old windows over the boxes to make mini-glasshouses to urge them along a little.  I've planted capsicums,  eggplants, tomatoes, cucumbers, and beans – several varieties of each.  If nothing else, it brings me visions of warm weather to come.
[relatedPosts]