Mullet are undervalued.  My partner remembers seeing them buried on the beach by the thousands, bycatch regarded as too cheap to bother selling.  Though those days are over they're still regarded as sustainable, and really fresh mullet are one of my favourite eating fish.  Fresh fillets are not too strong flavoured, and they're super cheap and a really good source of Omega 3.
The Recipe: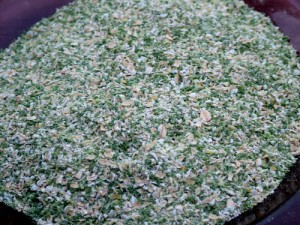 For 4 large mullet fillets:
In a food processor or blender, blend together to a fine crumb:
½ cup parsley
½ cup rolled oats
a good teaspoon lemon zest
Tip the mixture out onto a plate.
On another plate, put two good dessertspoons of plain low fat yoghurt.
Dip the mullet fillets first in the yoghurt to coat, then in the crumb mix.  Pat it on.
Shallow fry the fillets in olive oil for a few minutes each side until golden.
Serve with a wedge of lemon.
[relatedPosts]