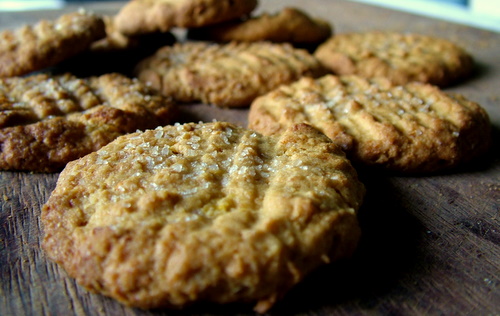 Paw paws are in season and we are picking several a week at the moment.  If you live in their climate zone and grow pawpaws, you probably also have a glut.  If you don't, sadly this recipe won't be for you.  Pawpaws don't travel well and those picked green for supermarkets are not worth buying.
If you do though, pawpaws are another of those orange coloured fruits rich in carotenes, vitamin C and flavonoids that are potent antioxidants and protective against a whole range of chronic diseases.  They also have fibre, folate, and a good range of minerals.  But their special power is a group of  protein-digesting enzymes including papain, that are anti-inflammatory and good for reducing allergies.
These biscuits (or cookies for US readers) easily satisfy the Muesli Bar Challenge rules:  easy enough for busy parents and even kids themselves to be bothered actually making, routinely, for daily school or work lunchboxes, not too loaded up with sugar or fat, based on real whole grains and in season produce, and robust enough to survive being bounced around in a school lunch box. Let's see if they meet the other criteria: approved by my school age reviewers .
The Recipe:
Makes 2 dozen biscuits
Turn your oven on to heat up. Grease two biscuit (or cookie to US readers) trays.
Cream together

4 dessertspoons of butter (100 gm)
4 dessertspoons of brown sugar

Beat in:

an egg
2 teaspoons of grated lemon rind
2 teaspoons  (or more) of ginger powder, depending on how fresh your ginger is and how gingery you like it.

Blend or puree half a cup of paw paw pulp and stir in.
Sieve together and stir in

1½ cups of wholemeal plain flour
1 teaspoon of baking powder
pinch of salt
You should end up with a dough that is sticky, but using wet hands you will be able to roll it into small balls and arrange them on a greased biscuit tray.
Using a wet fork, flatten the balls into a biscuit.  Sprinkle a pinch of raw sugar crystals on each one.
Bake in a medium hot oven for around 25 minutes until they are lightly browned.
Cool on the tray (they will crispen up as they cool).
[relatedPosts]