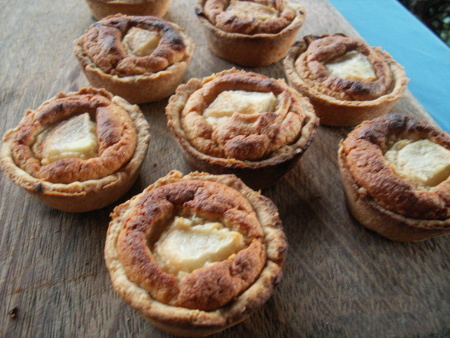 Pears are in season, and Bartlett pears (perfect for cooking) are starting to appear at our local Farmers Market. Where I live, we don't get enough chill factor for pears, but luckily, within our 100 mile limit (as the crow flies) there is good pear growing district up on the Tablelands.
Almonds are also in season, so when I saw an almond and pear tart at a local coffee shop, I had to try it (for research purposes only).  I tried, unsuccessfully, to find the recipe online, so this is my go at recreating it. Although it seems deceptively pastisserie complex and decadent, it's actually a great Muesli Bar Challenge recipe – simple, fast, very healthy, based on fresh food in season, and suitable for kids lunch boxes.
This recipe makes 8 tartlets.
Part 1: The Pear Puree
Peel and chop 5 pears. Reserve 8 small pieces for garnishing and put the rest in a small saucepan with a good desertspoon of honey, a teaspoon of vanilla and a pinch of cinnamon. Simmer, stirring occasionally for about 10 minutes to reduce to ¾ cup of puree. While it is doing so, make the pastry.
Part 2: The Pastry
I don't know why people buy pre-made shortcrust pastry. I get it for filo, but shortcrust? It takes more effort to find it in the supermarket than to make it, and home-made has none of those nasty fake fats.
For this almond pastry, first separate an egg. Keep the white for the filling (put it in a bowl where you can whisk it later).  Put the yolk in the food processor with half a cup of wholemeal plain flour, half a cup of almond meal and a desertspoon of butter.   I added a teaspoon of brown sugar but I don't think it needed it.  Blend for a minute until it resembles breadcrumbs. (Alternatively, you can just rub the butter into the flour and almond mix with your fingertips.) Add just enough cold water to make a soft dough. Sprinkle flour on your benchtop and roll it out. I use a saucer to cut 10 cm circles and put each in a cup of a muffin tray. Bake in a moderate oven for 15 minutes till the pastry is starting to firm but not browning. Meanwhile make the filling.
Part 3: The Filling
Whisk the egg white to form stiff peaks. Blend the ¾ cup pear puree together with ¾ cup almond meal, 1 desertspoon of plain flour, and 1 desertspoon of butter. Make sure it is coolish, then fold it into the egg white, stirring just enough to combine.
Putting it Together
Fill each tart case in the muffin tray with the filling. It will puff up a bit but it doesn't seem to overflow so you can fill them quite full. Put one of the reserved bits of pear on top of each and settle into the filling. Bake for half an hour until the tops are browned and the filling is firmish – they'll firm up more as they cool.
[relatedPosts]